Airliner Series>1:200 die-cast display model>L-188>HL1009
Lockheed L-188 Electra Northwest Airlines "N130US"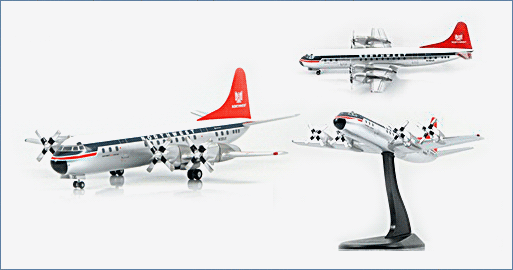 General Background
In 1954 American Airlines was in the market for a 75 to 100 passenger for its short to medium range domestic routes. In response Lockheed developed the low wing L-188 Electra powered by four sleek turboprops instead of the usual large radial engines or jet turbines. The combination of engine and the Hamilton Standard propeller offered a much more reliable and fuel efficient aircraft that could travel at 375 mph for 2000 miles at an altitude of 20,000 – 25,000 feet. When production ended in 1961 there had been 170 Electras completed.
Specifications :
| | |
| --- | --- |
| Dimensions | |
| Length: | 104 ft 6 in (31.81 m) |
| Wing Span: | 99 ft (30.18 m) |
| | |
| Weight | |
| Maximum Take Off: | 116,000 lbs |
| | |
| | |
| Performance | |
| Engines: | 4 x Allison 501-D13 @ 3,750 hp at take-off |
| Fuel Capacity: | 6,940 gallons |
| Maximum Speed: | 448 mph |
| Cruise Speed: | 2373 mph |
| Maximum Altitude: | 28,400 ft |
| Range: | 3,500 miles |