Airliner Series>1:200 die-cast display model>F-27>HL1101
Fokker F-27 "PH-FHF" NLM "Fokker Heritage Flight"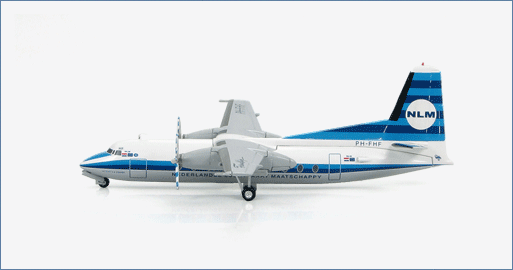 General Background
The Dutch aircraft manufacturer Fokker developed the 32 seat turboprop F.27 Friendship to replace the DC-3. In 1956 Fokker licensed U.S. manufacturer Fairchild to produce the F.27. In April 1958 the Fairchild F.27 flew and in November 1958 the first Fokker produced F.27-100 was delivered to Aer Lingus. In November 1967 the F.27-500 (FH.227 in the U.S.) first flew. The 500 was a stretched version and the most numerous with 123 being produced. When production ended in 1987 there were 586 Fokker and 207 Fairchild aircraft built.
Specifications :
| | |
| --- | --- |
| Number of Aircraft Built: | |
| F27 Mk.100: | 85 |
| F27 Mk. 200: | 117 approximately |
| F27 Mk.500: | 112 |
| Capacity: | |
| F27 Mk.100: | 44 passengers |
| F27 Mk. 200: | 52 passengers |
| F27 Mk.500: | 52 passengers |
| Dimensions | |
| Length: | |
| F27 Mk.100: | 77 ft 3in (23.56 m) |
| F27 Mk. 200: | 77 ft 3in (23.56 m) |
| F27 Mk.500: | 82 ft 3 in (25.06 m) |
| Performance | |
| Engines: | |
| F27 Mk.100: | 2 - Rolls-Royce Dart 6 Mk.514-7 1,670 shp each |
| F27 Mk. 200: | 2 - Rolls-Royce Dart Mk 536-7R 2,050 shp each |
| F27 Mk.500: | 2 - Rolls-Royce Dart 7 Mk.536-7R 2,140 shp each |
| Cruise Speed: | |
| F27 Mk.100: | 266 mph (428 km/h) |
| F27 Mk. 200: | 316 mph (509 km/h) |
| F27 Mk.500: | 292 mph (470 km/h) |
| Maximum Range: | |
| F27 Mk.100: | 1,250 nm (2,010 km) |
| F27 Mk. 200: | 1,040 nm (1,926 km) |
| F27 Mk.500: | 668 nm (1,075 km) w/max. payload |
| Weight: | |
| Empty: | |
| F27 Mk.100: | 22,593 lb (10,257 kg) |
| F27 Mk. 200: | 26,782 lb (12,148 kg) |
| F27 Mk.500: | 27,964 lb (12,684 kg) |
| Maximum Take-Off: | |
| F27 Mk.100: | 39,000 lb (17,710 kg) |
| F27 Mk. 200: | 44,996 lb (20,410 kg) |
| F27 Mk.500: | 44,996 lb (20,410 kg) |