Airliner Series>1:200 die-cast display model>MD-11>HL1202
McDonnell Douglas MD-11-5 Swiss International Airlines "HB-IWE"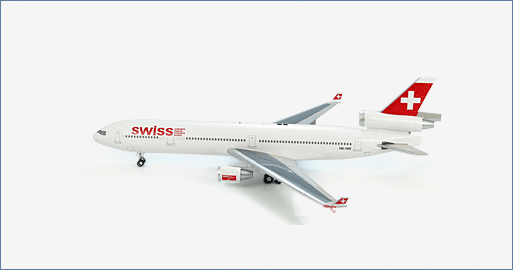 General Background
The MD-11 is a 3-engine medium-to-long haul wide-body jet airliner originally produced by McDonnell Douglas. In 1997 McDonnell Douglas merged with Boeing and the MD-11 became a Boeing project. Originally the projected sales called for 300 aircraft but in reality only 200 were produced. In December 1986 the MD-11 was given the go ahead for production with the first flight on January 10, 1990. On December 7, 1990 Finnair was the first airline to receive the MD-11. Delta Airlines was the first U.S. MD-11 carrier.
Specifications :
| | |
| --- | --- |
| Dimensions: | |
| Total Length: | 202 ft 2 in (61.62 m) with GE engines |
| | 200 ft 11 in (61.24 m) with PW engines |
| Fuselage Width: | 19 ft 9 in (6.02 m) |
| Fuselage Length: | 192 ft 5 in (58.65 m) |
| Wingspan: | 169 ft 6 in (51.66 m) |
| Wing Area: | 3,648 sq ft (338.9 m2) including winglets |
| Tail Height: | 57 ft 9 in (17.60 m) |
| | |
| Performance: | |
| 3 Engines (3 Options): | |
| Pratt & Whitney PW4460: | 60,000 lbf (270 kN) |
| Pratt & Whitney PW4462: | 62,000 lbf (280 kN) |
| General Electric CF6-80C2D1F: | 61,500 lbf (274 kN) |
| Maximum Fuel Capacity: | 38,615 US gal (146,170 l) |
| Maximum Cruise Speed: | Mach .88 (544 mph / 945 km/h / 520 kn) |
| Normal Cruise Speed: | Mach .82 (544 mph / 876 km/h / 473 kn) |
| Service Ceiling: | 43,000 ft (13,000 m) |
| Take Off Distance @ Maximum Take Off Weight: | 10,300 ft (3,100 m) |