Airliner Series>1:200 die-cast display model>DC-4>HL2001
Douglas DC-4 "Pan American World Airways"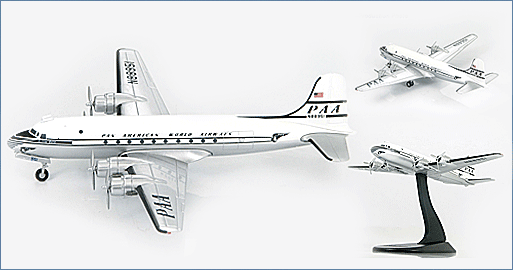 General Background
WWII in Europe had only ended a few months earlier when Overseas Airlines introduced the first commercial North Atlantic DC-4 service. Another first took place on March 7, 1946 when American Airlines introduced U.S. DC-4 domestic service between New York and Los Angeles. During the late 1940s and early 1950s the DC-4 and converted C-54s carried more passengers than any other four-engine transport. Amazingly many of these aircraft are still operating more than 60 years after they were first manufactured.
The Aircraft
The Pan American World Airways DC-4 N88951 was named "Clipper Racer". The aircraft was built by the Douglas Aircraft Company as c/n 35987 and delivered to the USAAF on July 16, 1945 as a C-54G-5-DO Skymaster serial number 45-0534. In late 1946 Douglas leased the aircraft and converted it to DC-4 specifications and sub-leased it to Pan Am on May 22, 1947 as N88951. The aircraft flew with Pan Am until November 23, 1953 when they returned it to the USAF who used it until 1972 and scrapped it in 1976.
Specifications :
| | |
| --- | --- |
| Crew : | 4 |
| Passengers: | up to 86 |
| Weight | |
| Empty: | 43,300 lb (19,640 kg) |
| Normal Load Weight: | 63,500 lb (28,800 kg) |
| Maximum Take-Off: | 73,000 lb (33,100 kg) |
| | |
| Dimensions | |
| Length: | 93 ft 10 in (28.6 m) |
| Height: | 27 ft 6 in (8.38 m) |
| Wing Span: | 117 ft 6 in (35.8 m) |
| | |
| Performance | |
| Engines: | (4) Pratt & Whitney R-2000 radial / 1,450 hp each |
| Cruise speed: | 227 mph (365 km/h) |
| Maximum Speed: | 280 mph (450 km/h) |
| Service Ceiling: | 22,300 ft (6,800 m) |
| Range: | 4,250 miles (6,839 km) |