Airliner Series>1:200 die-cast display model>DC-4>HL2002
C-54 Skymaster "Spirit of Freedom"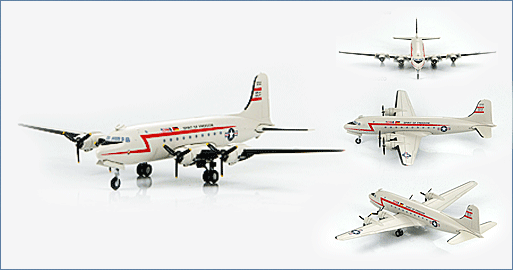 General Background
WWII in Europe had only ended a few months earlier when Overseas Airlines introduced the first commercial North Atlantic DC-4 service. Another first took place on March 7, 1946 when American Airlines introduced U.S. DC-4 domestic service between New York and Los Angeles. During the late 1940s and early 1950s the DC-4 and converted C-54s carried more passengers than any other four-engine transport. Amazingly many of these aircraft are still operating more than 60 years after they were first manufactured.
Specifications :
| | |
| --- | --- |
| Crew : | 4 |
| Passengers: | up to 86 |
| Weight | |
| Empty: | 43,300 lb (19,640 kg) |
| Normal Load Weight: | 63,500 lb (28,800 kg) |
| Maximum Take-Off: | 73,000 lb (33,100 kg) |
| | |
| Dimensions | |
| Length: | 93 ft 10 in (28.6 m) |
| Height: | 27 ft 6 in (8.38 m) |
| Wing Span: | 117 ft 6 in (35.8 m) |
| | |
| Performance | |
| Engines: | (4) Pratt & Whitney R-2000 radial / 1,450 hp each |
| Cruise speed: | 227 mph (365 km/h) |
| Maximum Speed: | 280 mph (450 km/h) |
| Service Ceiling: | 22,300 ft (6,800 m) |
| Range: | 4,250 miles (6,839 km) |