Airliner Series>1:200 die-cast display model>Vickers Viscount>HL3004
Vickers Viscount V700 Air France "G-ATDU"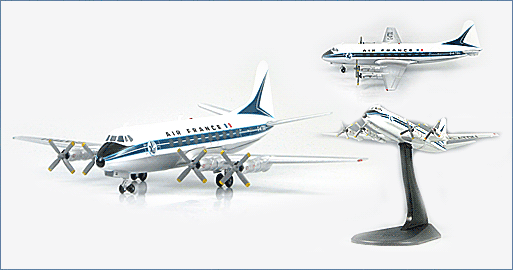 General Background
The world's first turbo-prop airliner was the British made Vickers Viscount. The first flight took place in 1948 with a more powerful engined Type 700 taking flight on August 3 1950. A stretched variant named Type 800 was 3 feet 10 inches longer with even more power and a new fuel system and flew on July 27 1956. It could carry 71 passengers so it soon was operating with about 70 airlines and 9 militaries around the world. Production ended in 1964 with 445 aircraft of all types produced.
Specifications :
| | |
| --- | --- |
| Type of aircraft: | Turbo prop airliner / freighter |
| Country of origin: | United Kingdom |
| First flight: | Type 700 April 19, 1950 |
| Entered regular service: | April 18, 1953 |
| People onboard | |
| Crew: | Two or three flight members |
| Passenger configuration: | V.700 / 40 seated four abreast or 47 – 63 at five abreast. |
| | V.800 / 65 seated five abreast. |
| | |
| Dimensions | |
| Wingspan: | 28.56 m (93.7 ft ) |
| Wing area: | 89.5 m² (963.4 ft²) |
| Length: | Type 700 – 24.94 m (81.82 ft ) |
| | Type 800 – 26.11 m (85.66 ft ) |
| Height: | 8.16 m (26.77 ft ) |
| | |
| Performance | |
| Engines: | Type 700D – (4) Rolls-Royce Dart 510 turbo prop / 1,740 hp each with a 4 blade constant speed propeller. |
| | Type 810 – (4) Rolls-Royce Dart 525 turbo prop / 1,990 hp each with a 4 blade constant speed propeller. |
| Cruise Speed: | Type 700D – 521 Kph (323.7 mph) |
| | Type 810 – 565 Kph (351.1 mph) |
| Maximum Speed: | Type 700D – 537 Kph (333.7 mph) |
| | Type 810 – 587 Kph (364.7 mph) |
| Maximum range: | |
| Type 700D: | 2,140 km (1,330 miles) maximum payload no reserves. |
| Type 810: | 2,780 km (1,727 miles) (64 passengers) |
| | 2,832 km (1,760 miles) (with maximum fuel) |
| Weights: | |
| Empty: | Type 700D - 17,200 kg (37,920 lb) |
| | Type 810 - 19,959 kg (44,000 lb) |
| Maximum T/O | Type 700D - 29,257 kg (64,500 lb) |
| | Type 810 - 32,866 kg (72,460 lb) |