Airliner Series>1:200 die-cast display model>Boeing 377>HL4001
Boeing 377 "Stratocruiser" Pan American World Airways "N1022V"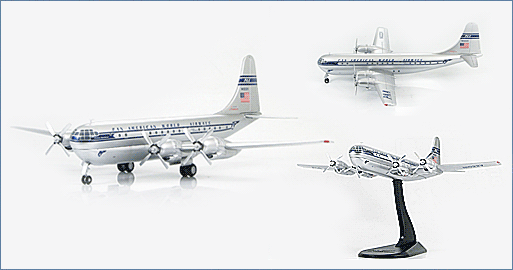 General Background
The Boeing 377 Stratocruiser was the commercial version of the C-97 Stratofreighter. The two-level 377 was pressurized and could accommodate 50 to 100 passengers. On long flights the aircraft could accommodate 28 upper and lower bunk units. This led to the aircraft being referred to as the "Flying Hotel". The 377 was larger and could fly further than the Constellation or the DC-6 but the engines and complexity of the aircraft proved to be too costly to operate bringing production to an end in 1950.
Specifications :
| | |
| --- | --- |
| First Flight: | July 8, 1947 |
| Number produced: | 56 |
| Production ended: | 1950 |
| | |
| Weight | |
| Empty: | 83,500 lb (67,133 kg) |
| Gross: | 145,000 lb (65,770 kg) |
| | |
| Accommodations | |
| Main deck: | Up to 100 passengers |
| Lower deck lounge: | 14 passengers |
| Typical seating: | 63 – 84 passengers |
| Converted to berths for long distance: | 28 + five seated |
| Dimensions | |
| Length: | 110 ft 4 in (33.63 m) |
| Height: | 38 ft 3 in (11.66 m) |
| Wing Span: | 141 ft 3 in (43.05 m) |
| | |
| Performance | |
| Engines: | (4) Pratt and Whitney R-4360-B6 Wasp Major 28-cylinder radial engines producing 3,500 hp each and powering four-bladed propellers |
| Maximum speed: | 375 mph (603 km/h) |
| Normal cruise speed: | 301 mph (483 km/h) |
| Maximum cruise: | 340 mph (547 km/h) |
| Range: | 4,200 miles (6,760 km) (3,650 nmi) |
| Service ceiling: | 32,000 ft (9,800 m) |