Airliner Series>1:200 die-cast display model>Boeing 377>HL4004
Boeing C-97A Stratofreighter Military Air Transport Service "48-399"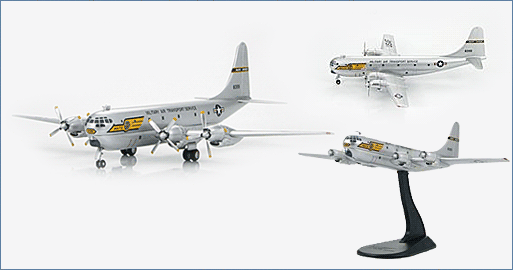 General Background
The Boeing 377 Stratocruiser was the commercial version of the C-97 Stratofreighter. The two-level 377 was pressurized and could accommodate 50 to 100 passengers. On long flights the aircraft could accommodate 28 upper and lower bunk units. This led to the aircraft being referred to as the "Flying Hotel". The 377 was larger and could fly further than the Constellation or the DC-6 but the engines and complexity of the aircraft proved to be too costly to operate bringing production to an end in 1950.
Specifications :
| | |
| --- | --- |
| Boeing aircraft model number: | 367 |
| Number produced: | 888 |
| Crew: | 4 x (Pilot, Co-pilot, Navigator, Flight Engineer) |
| Capacity: | 96 troops or 69 stretchers or tanker equipment for refueling versions |
| | |
| Weight | |
| Empty: | 82,500 lb (37,410 kg) |
| Loaded: | 1120,000 lb (54,420 kg) |
| Maximum Take-Off: | 175,000 lb (79,370 kg) |
| | |
| Dimensions | |
| Length: | 110 ft 4 in (33.63 m) |
| Height: | 38 ft 3 in (11.66 m) |
| Wing Span: | 141 ft 3 in (43.05 m) |
| | |
| Performance | |
| Power Plant: | 4 x Pratt & Whitney R-4360B (or 59B or 35C) Wasp Major radial engines, 3,500 hp 2,610 kW) depending on engine type, 27 cylinders/engine, 216 spark plugs |
| Performance | |
| Maximum speed: | 375 mph (603 km/h) |
| Cruise Speed: | 300 mph (260 knots or 482 km/h) |
| Range: | 4,300 mi (4,949 nm or 6,920 km) |
| Ferry Range: | 5,760 mi (5,000 nm or 9,270 km) |
| Service ceiling: | 35,000 ft (10,670 m) |