Airliner Series>1:200 die-cast display model>DC-6>HL5001
Douglas DC-6B Pan Am Airlines "N5121V"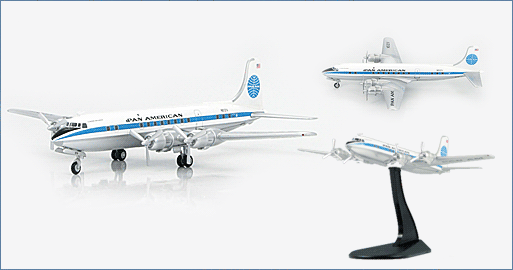 General Background
The Douglas DC-6B first flew on February 10, 1951 with its first scheduled passenger flight on April 11, 1951 with United Airlines. The DC-6 might have had the same wingspan as the DC-4 but that is all. The DC-6 fuselage was longer and stronger and pressurized. The more powerful engines used a 3-bladed propeller capable of reversing pitch for braking. The DC-6B was the most successful of all the DC series of aircraft with the last of the 288 produced being delivered on November 17, 1958.
The Aircraft
In September 1950 Pan American World Airways ordered 45 DC-6B aircraft. The first Pan Am aircraft made its maiden flight on May 1, 1952 on the New York to London route. On April 26, 1954 Pan Am took possession of N5121V MSN 44121/470 and named it "Clipper Splendid". This aircraft operated with Pan Am until March 2, 1961 when it was sold to Loftleidir and registered as TF-LLC. After 2 additional owners the aircraft ended its career being scrapped by the Peruvian Air Force as FAP-380.
Specifications :
| | |
| --- | --- |
| Type : | Long-Range passenger transport |
| Manufacturer : | Douglas Aircraft Co |
| Crew : | 5 |
| Production : | DC-6B - 288 |
| Powerplant : | 4 X 2400-hp Pratt & Whitney R-2800CBI6 Double Wasp or |
| | 4 X 2500hp R-2800-CB 17 Double Wasp 18-cylinder two-row radial engines |
| Performance: | |
| Cruising speed: | 315 mph (507 km/h) @ 20,600 ft (6,279 m) |
| Range with maximum payload: | 3,005 miles (4,835 km) |
| Payload: | 24,565Ib (11,143 kg) with seating for up to 102 passengers |
| Dimensions: | |
| Length: | 105ft 7in (32.18m) |
| Height: | 28 ft 8 in (8.74 m) |
| Wing Span: | 117ft 6 in (35.81 m) |
| Wing area: | 1,463 sq ft (135.91 m²) |
| Weight: | |
| Maximum: | 107,000 lb (48,535 kg) |
| Empty: | 58,6351b (26,595 kg) |