Airliner Series>1:200 die-cast display model>L-1049G>HL9003
Lockheed L-1049G Super Constellation Northwest Orient Airlines "N5175V"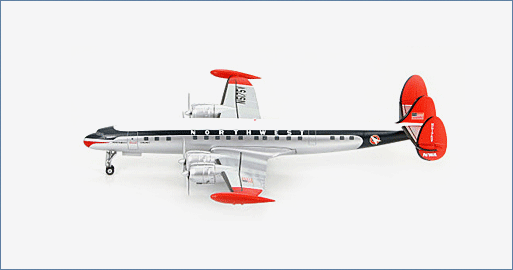 General Background
As a response to the Douglas DC-4, Lockheed developed the Constellation. As more powerful engines were developed the Constellation was stretched 21 feet and improvements made resulting in the L-1049 Super Constellation. The development of the L-1049G improved range with the addition of wing-tip tanks. The more powerful engines made it necessary to use large propellers that required the aircraft to sit quite high off the ground. A triple tail was developed because the size of a single tail would have been too large to fit in any hangar.
Specifications :
| | |
| --- | --- |
| First Flight : | July 14, 1951 |
| Production : | 564 for commercial airlines and military |
| Crew : | 4 Cockpit Crew, 4 Flight Attendants |
| Standard Seating : | 95 passengers |
| Performance: | |
| Powerplant: | 4 x Wright R-3350-DA3 Turbo Compound 18-cylinder super-charged air cooled radial engines producing 3,250 hp (2,424 kW) per engine |
| Fuel Capacity: | L-1049C – 6,550 US gallons |
| | L-1049G & H – 7,750 US gallons w/tip tanks |
| Fuel Burn : | L-1049C w/ maximum fuel load – 4 engines / 432 gph (108 gph /engine) |
| | L-1049G w/ maximum fuel load – 4 engines / 500 gph (125 gph /engine) |
| | L-1049H w/ maximum fuel load – 4 engines / 696 gph (174 gph /engine) |
| Maximum Cruising Speed : | L-1049C - 734 mph (352 kts) |
| | L-1049G & H – 366 mph (318 kts) |
| Normal Cruising Speed | L-1049C – 314 mph (273 kts) |
| | L-1049G & H – 311 mph (270 kts) |
| Service Ceiling : | L-1049C – 23,200 ft |
| | L-1049G & H – 22,800 ft |
| Range: | L-1049C – 4,760 miles w/maximum fuel |
| | L-1049C – 2,880 miles w/maximum payload |
| | L-1049G – 4,815 miles w/maximum fuel |
| | L-1049G – 4,165 miles w/maximum payload |
| | L-1049H – 3,463 miles w/maximum fuel |
| | L-1049H – 1,890 miles w/maximum payload |
| Weight: | |
| Empty: | L-1049C – 70,083 lbs |
| | L-1049G – 73,016 lbs |
| | L-1049H – 69,326 lbs |
| Maximum Take Off: | L-1049C – 133,000 lbs |
| | L-1049G & H – 137,500 lbs |
| Dimensions : | |
| Length: | L-1049C – 113 ft 7 in |
| | L-1049G & H – 116 ft 2 in |
| Wingspan: | L-1049C – 123 ft |
| | L-1049G & H – 123 ft 5 in |
| Height: | L-1049C & G & H – 24 ft 9.4 in |