Air Power Series>1:144 die-cast display model>JU52>HA9001
JU 52/3M Lufthansa, 1936 "D-ABIK"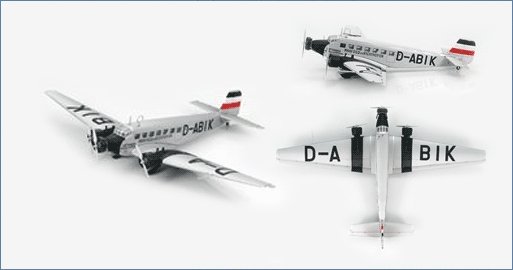 General Background
The Ju-52 first flew in 1930 as a single engine civil aircraft. Before long it was given two more engines and designated Ju-52/3m (German - drei motoren - "three engines"). The 3-engine aircraft was originally designed as a 17 passenger airliner. The principal user was Lufthansa that flew in Europe, Asia and South America. In the mid 1930's a military version was produced and the Ju-52 became one of the most reliable transport aircraft. The Ju-52 saw service with military and civilian air fleets well into the 1980s.
The Aircraft
One of Lufthansa's Ju-52s c/n 4069 was registered as D-ABIK and operated with them in 1935 and 1936. The aircraft was given the name 'Manfred von Richthofen' and became the aircraft Hermann Goering would use when he traveled. Lufthansa was influential in founding several other airlines Spanish Iberia, the Brazilian "Syndicato Condor" and the Chinese "Eurasia" airlines. In December 1941 the aircraft was in Hong Kong and was destroyed when the Japanese bombed the city.
Specifications :
| | |
| --- | --- |
| Role: | Airliner, Transport Aircraft |
| Crew: | 3 / 2 x pilots, radio operator |
| Payload: | 17 passengers |
| Nicknames: | German / Tante Ju ("Auntie Ju"), Allies / Iron Annie, Corrugated Coffin, Jupiter was BEA Airlines designation of war-reparation Ju 52/3m's in 1947 |
| Number Built by Junkers: | 4,845 |
| Performance: | |
| Maximum speed: | 143 kts 264 km/h |
| Initial climb rate: | 787.4 ft/min 4.00 m/s |
| Service ceilinge: | 16,732 ft 5,100 m |
| Range: | 648 nm 1,200 km |
| Endurance: | 7 hours + |
| Powerplant: | 3 x BMW 132 A/3 9 cylinder radial air-cooled turbocharged (high- altitudes) engines with carburetors |
| Power rating (max.): | 819 hp per engine |
| Maximum Total power rating: | 2,456 hp |
| Dimensions: | |
| Length: | 62 ft 18.9 m |
| Height: | 20 ft 6.1 m |
| Wingspan: | 95.9 ft 29.25 m |
| Wing area: | 1189.4 sq/ft 110.5 sq/m |
| Max take-off weight: | 23,152 lbs 10,500 kg |
| Weight empty: | 14,531 lbs 6,590 kg |