Air Power Series>1:32 die-cast display model>SBD>HA0200
Douglas SBD-3 Dauntless LCDR Wade McClusky, Enterprise Air Group, 4th June 1942 "Battle of Midway"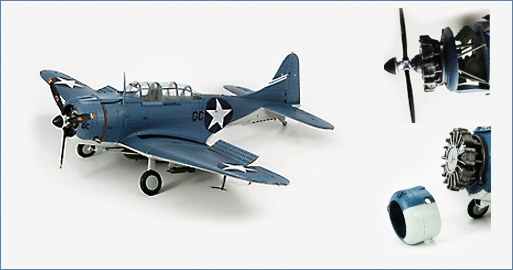 General Background
Designed as a light bomber and reconnaissance aircraft, the Dauntless served during the war with the US Marine Corps, Army and Navy. The Douglas Dauntless was the workhorse of the US Navy in the Pacific. The Dauntless dive-bomber was the only plane to fight in every major Pacific engagement. The SBD-3, sarcastically nicknamed "Speedy Three", entered service in March 1941 with production ending in July 1944, by which time a total of 5,936 had been built in all versions.
The Aircraft
On June 4, 1942 LCDR C. Wade McClusky led aircraft to locate the Japanese Fleet off Midway Island. When they arrived the enemy had gone so McClusky made a history altering decision. He guessed correctly where the Japanese Fleet was and his Group attacked and sank two carriers. Two Zeros attacked his SBD and his gunner W.G. Chochalousek managed to down one plane. He nursed the plane back to the Enterprise and later was awarded the Navy Cross.
Specifications :
| | |
| --- | --- |
| Dimensions: | |
| Length: | 32 ft., 8 in. |
| Height: | 13 ft., 7 in. |
| Wingspan: | 41ft., 6 in. |
| Weights: | |
| Empty: | 6,345 lb. |
| Gross: | 10,400 lb. |
| Powerplant: | One 1,000 horsepower Wright R-1820-52 engine |
| Performance: | |
|  Maximum Speed: | 250 M.P.H. |
| Maximum Range with Bomb Load: | 1,345 miles |
| Service Ceiling: | 27,100 ft. |
| Crew: | Pilot and gunner/radio operator |
| Armament: | Two fixed forward-firing .50-in. guns, two flexible-mounted rear-firing .30-in. guns, 1,200 lb. of ordnance |