Air Power Series>1:32 die-cast display model>SBD>HA0201
Douglas SBD-2 Dauntless 2B2, VB-2, USS Lexington (CV-2), 1941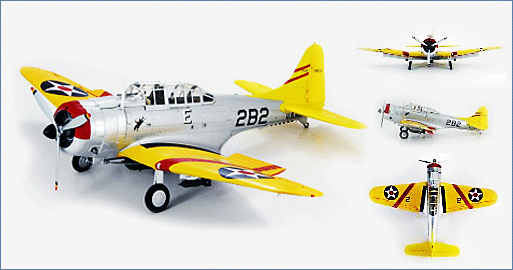 General Background
The Douglas "Dauntless" was the workhorse for the US Navy during the WWII. This "Slow but Deadly" dive-bomber was the only plane that had fight in every major Pacific conflicts. Although it had been considered obsolete in 1941 already, the Dauntless was used until 1944 and undertook the last major conflict in the Battle of Philippine Sea. A total of 5,936 SBDs were produced in WWII.
The Aircraft
The Douglas SBD-2 BuNo 2106 is perhaps one of the most legendary "Dauntless" in history. It survived the Japanese Pearl Harbor attack and rejoined the VB-2 on the USS Lexington on Dec.12, 1941.

Most significantly, the aircraft is the only surviving naval aircraft of any type known to have played a role in the pivotal "Battle of Midway". During the attack, the Dauntless collected between 210-259 bullet holes from Zeros and Japanese warships but the pilot managed to stagger back to a crash landing at Midway.

On 11 June 1943, the aircraft stalled and spun into Lake Michigan during a rountine carrier landing qualification flight and it was not until Jan. 1994 the Dauntless was recovered for the National Museum of Naval Aviation.
Specifications :
| | |
| --- | --- |
| Dimensions: | |
| Length: | 32 ft., 8 in. |
| Height: | 13 ft., 7 in. |
| Wingspan: | 41ft., 6 in. |
| Weights: | |
| Empty: | 6,345 lb. |
| Gross: | 10,400 lb. |
| Powerplant: | One 1,000 horsepower Wright R-1820-52 engine |
| Performance: | |
|  Maximum Speed: | 250 M.P.H. |
| Maximum Range with Bomb Load: | 1,345 miles |
| Service Ceiling: | 27,100 ft. |
| Crew: | Pilot and gunner/radio operator |
| Armament: | Two fixed forward-firing .50-in. guns, two flexible-mounted rear-firing .30-in. guns, 1,200 lb. of ordnance |