Air Power Series>1:32 die-cast display model>SBD>HA0202
Douglas SBD-5 Dauntless VMSB-231, Marshall Islands, 1944 "Ace of Spades"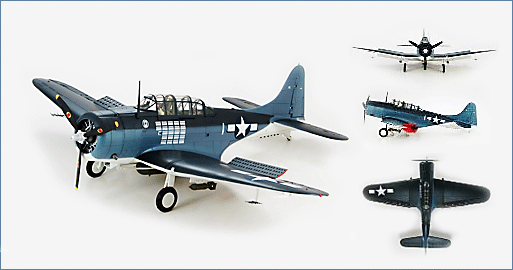 General Background
The Douglas "Dauntless" was the workhorse for the US Navy during the WWII. This "Slow but Deadly" dive-bomber was the only plane that had fight in every major Pacific conflicts. Although it had been considered obsolete in 1941 already, the Dauntless was used until 1944 and undertook the last major conflict in the Battle of Philippine Sea. A total of 5,936 SBDs were produced in WWII.
The Aircraft
VMSB-231 nicknamed the "Ace of Spades" had the oldest insignia in the Marine Corps dating back to WWI. Based in the Marshall Islands from 1944 – 45 the squadron operated from Majuro Atoll. Their mission was to bomb the smaller islands in the chain that had initially been by-passed. Maj. Elmer Glidden and M/Sgt James Boyle flew SBD-5 "White 1". Major Glidden was the services leading dive-bomber pilot having flown SBD's at Midway and Guadalcanal. On Majuro he flew another 77 combat dives for a war total of 104.
Specifications :
| | |
| --- | --- |
| Dimensions: | |
| Length: | 32 ft., 8 in. |
| Height: | 13 ft., 7 in. |
| Wingspan: | 41ft., 6 in. |
| Weights: | |
| Empty: | 6,345 lb. |
| Gross: | 10,400 lb. |
| Powerplant: | One 1,000 horsepower Wright R-1820-52 engine |
| Performance: | |
|  Maximum Speed: | 250 M.P.H. |
| Maximum Range with Bomb Load: | 1,345 miles |
| Service Ceiling: | 27,100 ft. |
| Crew: | Pilot and gunner/radio operator |
| Armament: | Two fixed forward-firing .50-in. guns, two flexible-mounted rear-firing .30-in. guns, 1,200 lb. of ordnance |