Air Power Series>1:32 die-cast display model>SBD>HA0203
Douglas SBD-3 Dauntless BuNo 4687, USS Enterprise (CV-6), 4 June 1942 "Battle of Midway"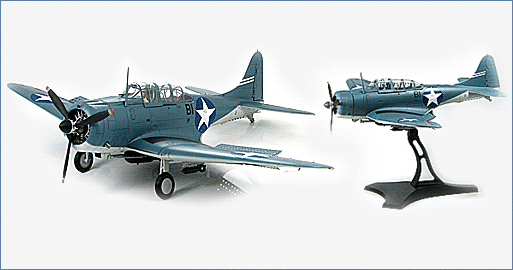 General Background
The Douglas "Dauntless" was the workhorse for the US Navy during the WWII. This "Slow but Deadly" dive-bomber was the only plane that had fight in every major Pacific conflicts. Although it had been considered obsolete in 1941 already, the Dauntless was used until 1944 and undertook the last major conflict in the Battle of Philippine Sea. A total of 5,936 SBDs were produced in WWII.
The Aircraft
Aircraft BuNo. 4687 from the USS Enterprise was flown by the Lt. Richard H. Best, commanding officer of VB-6. On June 4, 1942 while flying Black B-1 from Bombing Six, Best and Murray took part in two sorties. The first mission took place in the morning against the IJNS Akagi and Kaga. In the afternoon they help with the sinking of IJNS Hiryu. During the operation Best inhaled caustic fumes from a faulty oxygen bottle damaging his lungs and forcing him into early retirement from active duty.
Specifications :
| | |
| --- | --- |
| Dimensions: | |
| Length: | 32 ft., 8 in. |
| Height: | 13 ft., 7 in. |
| Wingspan: | 41ft., 6 in. |
| Weights: | |
| Empty: | 6,345 lb. |
| Gross: | 10,400 lb. |
| Powerplant: | One 1,000 horsepower Wright R-1820-52 engine |
| Performance: | |
|  Maximum Speed: | 250 M.P.H. |
| Maximum Range with Bomb Load: | 1,345 miles |
| Service Ceiling: | 27,100 ft. |
| Crew: | Pilot and gunner/radio operator |
| Armament: | Two fixed forward-firing .50-in. guns, two flexible-mounted rear-firing .30-in. guns, 1,200 lb. of ordnance |