Air Power Series>1:48 die-cast display model>F2A>HA7002
B-339E "Buffalo" No.448 Squadron RNZAF, Singapore, late 1941 "Pacific Theater"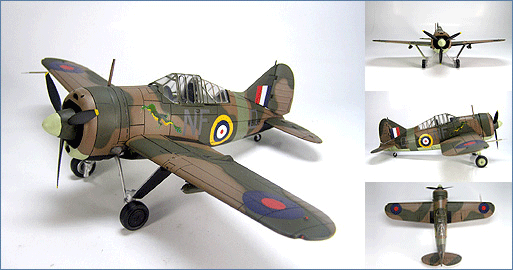 General Background
The Brewster B339-E (Buffalo MKI) was the export modified variant of the F2A-2 ordered by Great Britain 's Royal Air Force (RAF). A total of over 200 were shipped to Singapore and Northern Malaya to equip the RAF and Commonwealth squadrons. British officials stated that the Buffalo "…would be more than a 'match' for Japanese aircraft…".

Initially the B339-Es were quite adequate against Japanese Army Air Force until they encountered the Japanese Zero. Despite various efforts to increase maneuverability of the aircraft, the Buffalo was of no match to the Zero and suffered heavy losses in combats. Many of the pilots flying the Buffalos had only a handful of experiences while Japanese pilots were mostly veterans of war against China . However, these fledgling pilots achieved much greater success than could have been anticipated.
The Aircraft
No. 488 Squadron of the Royal New Zealand Air Force (RNZAF) was one of the five Commonwealth squadrons that received the B-339E in the Far East . Together with other squadrons, they stationed at the British naval base of Singapore and on the adjacent Malayan Peninsula . These Commonwealth squadrons claimed at least eighty kills while some units might have achieved a 2 to 1 kill ratio.

The pilot of the " RNZAF NF-O W8138" was Flight Officer Noel C. Sharp . On 18 Jan.1942, a combined formation of 243 and 488 Squadrons met the escort to an incoming bomber raid. Sharp was one of the two Allied pilots who claimed a 'Navy O' shot down in the combat but his aircraft was badly damaged. Throughout his career, Sharp had downed 3 aircraft s and damaged 2 bombers . He was killed in 1942 flying a Hurricane.
Specifications :
| | |
| --- | --- |
| Power plant: | One Wright R-1820-G105A Cyclone nine-cylinder, single-row air-cooled radial, rated at 1100 hp for takeoff. |
| Performance: | Maximum speed - 324 mph at 21,000 ft, 313 mph at 13,000 ft. |
|   | Cruising speed - 256 mph. |
|   | Initial climb rate - 2600 ft/min. an altitude of 15,000 ft could be reached in 6.3 minutes. |
| Service ceiling: | 30,675 ft. |
| Weight: | 4479 lbs empty |
|   | 6500 lbs gross |
|   | 6840 lbs maximum takeoff. |
| Dimensions: | Wingspan 35 ft |
|   | Length 26 ft |
|   | Height 12 ft 1 in. |
|   | Wing area 209 sq. ft. |
| Armament | Two 0.50 in. machine guns in the wings, two 0.30-in. machine guns in the upper fuselage. |