Air Power Series>1:48 die-cast display model>Spitfire>HA7105
Spitfire FR.XVIII, NH850/Z, 60 Sqn., Kuala Lumpur, Malaya, 31 Dec 1950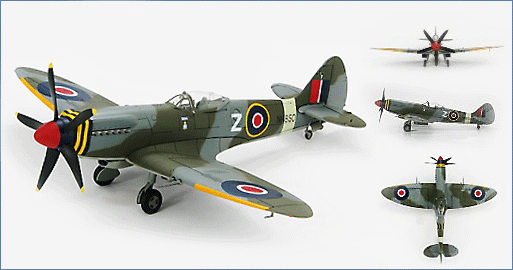 General Background
Spitfire Mk XIV was the most important Griffon-engined Spitfire. It was powered by a 2,035hp Griffon 65 engine based on the Mk. VIII fuselage. Given its superior performance, the Mk.XIVs were used extensively to intercept the high speed V-1 flying bombs from Germany. In the European continent the aircraft was mainly used as armed reconnaissance searching for enemy targets.

Probably one of the best-known fighters of WWII the Spitfire had a big psychological effect at home and in Germany. With its great performance the British were given hope of surviving the Battle of Britain and the German pilots learned to respect its fighting capabilities. It wasn't the workhorse the Hurricane was but the great handling capabilities along with its great looks made the Spitfire a WWII icon. The plane was also used very successfully in a reconnaissance role and was the only Allied fighter in production for the entire WWII years.
The Aircraft
In July 1949, WWII Spitfire Ace W Duncan-Smith was made CO of the No. 60 Sqn RAF based in Singapore. His unit was heavily engaged in strike operations against the communists in Malaya.

The squadron was the last RAF unit to operate the Spitfire.
Specifications :
| | |
| --- | --- |
| Basic Information : |   |
| Country of origin: | Britain |
| Classification: | single-engine fighter |
| Crew: | 1 |
| Production: | first produced in 1943 |
| Number produced: | 950 of all XIV variants |
| Dimensions: |   |
| Wingspan: | 36ft 10in (11.23m) |
| Length: | 32ft 8in (9.96m) |
| Performance: |   |
| Powerplant: | 1 X Rolls-Royce Griffon 65 12 cylinder liquid-cooled engine 2,035hp (1,517kW) |
| Speed max: | 447mph (720km/h) |
| Range: | 460 miles (740 km) on internal tanks |
| Ceiling max: | 42,978ft (13,100m) |
| Weight: |   |
| Empty: | 6,603lb (2,995kg) |
| Maximum: | 10,285lb (4,665kg) |
| Armament: | 2 X 20mm (.078in) Hispano cannons |
|   | 4 X Browning 7.7mm (0.303in) machine guns |
|   | Up to a 1,000lb (454kg) payload with other options possible |