Air Power Series>1:48 die-cast display model>F9F>HA7202
Grumman F9F-2P Panther VC-61, PP/154, USN "Look"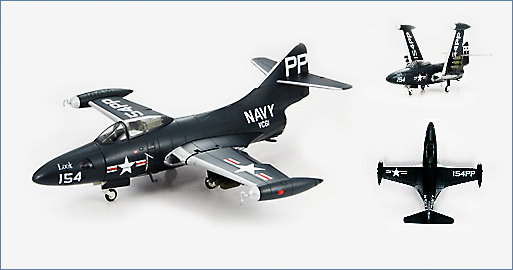 General Background
The F9F Panther entered service in 1949. It was the first Grumman jet fighter, first Carrier-Borne Navy jet fighter in combat, first USN jet to shoot down an enemy airplane, first jet aircraft used by the Blue Angels. A total of 1,382 F9Fs were made. VF-781 was the first squadron to volunteer for combat in Korea and were 100% volunteers earning them the name "Pacemakers". The F9F flew 78,000 sorties with VF-781 flying 2,721 of them without a single loss of life. The Panther was removed from front-line service in 1956
The Aircraft
The F9F-2P aerial reconnaissance version of the Panther had the 4 x 20mm nose guns replaced with cameras leaving them defenseless. Wearing white letters PP on the tail and wings VC-61, "Eyes of the Fleet" were assigned this task during the Korean Conflict. VC-61 flew over enemy territory, took pictures and returned them to be analyzed. Armed aircraft would deploy to destroy the targets and once more VC-61 Panthers would fly over the target taking pictures so the extent of damage could be determined. VC-61 lost 4 pilots while performing their duty.
Specifications :
| | |
| --- | --- |
| Engine: | 1 X Pratt & Whitney J42-P-6/P-8 turbojet |
|   | Rated at – 5,000 lb.s.t. for takeoff dry |
|   | 5,950 lb.s.t. for takeoff with water injection |
| Performance: | Maximum speed – 575 mph at sea level, 545 mph at 22,000 feet, 529 mph at 3,500 feet |
|   | Cruising speed – 487 mph |
|   | Landing speed - 105 mph |
|   | Initial climb rate – 5,140 feet per minute |
|   | Service ceiling – 44,600 feet |
|   | Normal range – 1,353 miles |
| Dimensions: | Wingspan - 35 feet 3 inches |
|   | Length - 37 feet 3 inches |
|   | Height - 11 feet 6 inches |
|   | Wing area - 250 square feet. |
| Weights: | Empty – 9,303 pounds |
|   | Combat - 14,235 pounds |
|   | Gross - 16,450 pounds |
|   | Take-off - 19,494 pounds maximum |
| Internal fuel capacity: | 923 US gallons |
| Armament: | 4 X 20-mm cannon. |
|   | Under-wing loads of up to 2,000 pounds of bombs |
|   | and rockets could be carried on eight under-wing racks. |