Air Power Series>1:48 die-cast display model>F9F>HA7207
Grumman F9F-5 Panthers VA-192, "Golden Dragon Squadron"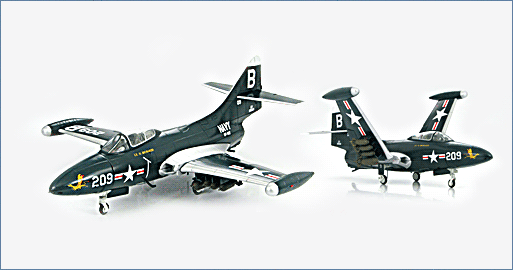 General Background
The F9F Panther entered service in 1949. It was the first Grumman jet fighter, first Carrier-Borne Navy jet fighter in combat, first USN jet to shoot down an enemy airplane, first jet aircraft used by the Blue Angels. A total of 1,382 F9Fs were made. VF-781 was the first squadron to volunteer for combat in Korea and were 100% volunteers earning them the name "Pacemakers". The F9F flew 78,000 sorties with VF-781 flying 2,721 of them without a single loss of life. The Panther was removed from front-line service in 1956
The Aircraft
The squadron deployed for Korea aboard Princeton again from Mar-Nov 1952. On 23–24 Jun, the squadron, along with units from two other carrier air groups, conducted coordinated air strikes against North Korean hydroelectric plants. Squadron aircraft struck the Suiho hydroelectric plant on the Yalu River, the Kyosen hydroelectric plant and the Fusen hydroelectric plant. In July, VF-192 participated in one of the major joint Navy, Air Force and Marine Corps air strikes of the war, hitting industrial targets in North Korea's capital city of Pyongyang.

Early in 1953, the Black Knights entered the jet age by receiving the F9F-2 and F9F-5 Panther fresh off the assembly line.
Specifications :
| | |
| --- | --- |
| Engine: | 1 X Pratt & Whitney J42-P-6/P-8 turbojet |
|   | Rated at – 5,000 lb.s.t. for takeoff dry |
|   | 5,950 lb.s.t. for takeoff with water injection |
| Performance: | Maximum speed – 575 mph at sea level, 545 mph at 22,000 feet, 529 mph at 3,500 feet |
|   | Cruising speed – 487 mph |
|   | Landing speed - 105 mph |
|   | Initial climb rate – 5,140 feet per minute |
|   | Service ceiling – 44,600 feet |
|   | Normal range – 1,353 miles |
| Dimensions: | Wingspan - 35 feet 3 inches |
|   | Length - 37 feet 3 inches |
|   | Height - 11 feet 6 inches |
|   | Wing area - 250 square feet. |
| Weights: | Empty – 9,303 pounds |
|   | Combat - 14,235 pounds |
|   | Gross - 16,450 pounds |
|   | Take-off - 19,494 pounds maximum |
| Internal fuel capacity: | 923 US gallons |
| Armament: | 4 X 20-mm cannon. |
|   | Under-wing loads of up to 2,000 pounds of bombs |
|   | and rockets could be carried on eight under-wing racks. |