Air Power Series>1:48 die-cast display model>F3F>HA7306
Grumman F3F-1 VF-4, Section 3 Leader, USS Ranger, late 1930's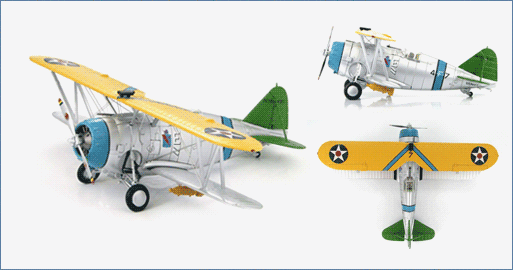 General Background
Produced in the mid to late 1930s the F3F-1 as well as the 2 and 3 variants belonged to what probably was the most colorful era in US military aviation history. Grumman took all the lessons learned from the F2F and incorporated them into the F3F. The Flying Barrel, as it was commonly called, had a wide fuselage to accommodate the large radial engine and a three-bladed Hamilton Standard propeller. The plane had improved retractable landing gear, longer fuselage. The last F3F was retired by the USN in November 1943.
The Aircraft
Originally formed in 1927 as Bombing Squadron One on the USS Lexington they became VF-5 in 1932. The squadron was assigned to the USS Lexington and in March 1936 they received their new Grumman F3F-1. On July 1, 1936 they transferred to the USS Ranger and still known as VF-5 until 1937 when they assumed the title VF-4 (Red Rippers).
The willow-green tail signifies the USS Ranger, the color blue signifies the third section, the solid blue band around the engine cowling signifies the first aircraft in the third section and the blue band around the fuselage signifies the unit leader of the third section. The second aircraft in a section would have the top half of the engine cowling painted and the third aircraft in the 3-plane section would have the lower half of the cowling painted.
Specifications :
| | |
| --- | --- |
| Crew: | 1 pilot |
| Dimensions | |
| Length: | 23 ft 2 in (7.06 m) |
| Height: | 9 ft 4 in (2.84 m) |
| Wingspan: | 32 ft 0 in (9.75 m) |
| Wing area: | 260 ft² (24.15 m²) |
| Weights | |
| Empty: | 3,285 lb (1,490 kg) |
| Max takeoff: | 4,795 lb (2,175 kg) |
| Performance | |
| Powerplant: | 1× Wright R-1820-22 "Cyclone" 9-cylinder radial engine, 950 hp (710 kW), 8 ft 6 in. 3 blade Hamilton-Standard propeller |
| Maximum speed: | 229 knots, 264 mph (425 km/h) at 15,250 ft (4,658 m) |
| Cruise speed: | 150 mph (130 knots, 240 km/h) Range: 980 mi (850 nm, 1,600 km) |
| Service ceiling: | 33,200 ft (10,120 m) |
| Rate of climb: | 2,800 ft/min (14 m/s) at sea level |
| Armament | |
| Guns: | 1× 0.30 in (7.62 mm) M2 machine gun, 500 rounds |
| | 1× 0.50 in (12.7 mm) M2 machine gun, 200 rounds |
| Bombs: | 2× 116 lb (52.6 kg) Mk IV bombs, one under each wing |