Air Power Series>1:48 die-cast display model>FW-190>HA7403
FW 190 A-8/R2 IV/JG.3, August 1944 "Hauptmann Wilhelm Moritz"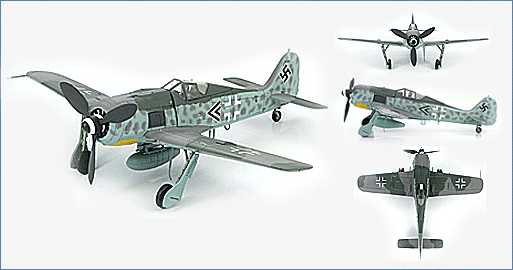 General Background
In 1937 the Me-109 was an excellent aircraft but the Reich Air Ministry wanted a new advanced fighter that could out perform any future foreign designs. Kurt Tank's Focke-Wulf Fw-190 Würger (Butcher Bird) won the design competition by using an air-cooled radial engine. When the Fw-190 entered combat in the summer of 1941 it already was Germany's premiere piston-powered WWII fighter. Over 20,000 of all variants of the Fw-190 were built with 13,291 of these being of the 9 different "A" variants.
The Aircraft
Aircraft W.Nr. 681382 was flown by Hauptmann Wilhelm Moritz and is painted with a "Black Double Chevron" (denoting a Gruppenkommandeur). Moritz was appointed Gruppenkommandeur of IV.(Sturm)/JG 3 on 18 April 1944. His Gruppe specialized in anti-bomber operations flying heavily armoured and armed Focke-Wulf Fw-190. On October 1st, Moritz was promoted to the rank of Major. However on December 5th, Moritz had a nervous breakdown and was relieved from command of IV.(Sturm)/JG 3. Over the length of his career Moritz flew more than 500 missions and credited with 44 victories.
Specifications :
| | |
| --- | --- |
| Dimensions: | Wingspan – 10.5 m (34 ft 5 in) |
| | Wing Area – 18.3 m (197 sq ft) |
|   | Length – 8.96 m (29 ft 5 in) |
|   | Height – 3.96 m (13 ft) |
| Weight: | Empty – 3,470 kg (7,650 lb) |
|   | Maximum – 4,900 kg (10,800 lb) |
| Performance: | Engine – BMW 801D 1,700 hp 14-cylinder radial engine |
| | Maximum Speed – 657 kph (408 mph) (335 kts) |
|   | Service Ceiling – 10,300 m (33,800 ft) |
|   | Range – 800 km (500 mi) (435 nmi) |
| Armament: | (2) 13 mm Machine Guns plus |
|   | (4) 20 mm cannon or |
|   | (2) 20 mm cannons plus |
| | (2) 30 mm cannons |