Air Power Series>1:48 die-cast display model>FW-190>HA7405
FW-190 A8 JG 26, June 1944 "Josef Priller"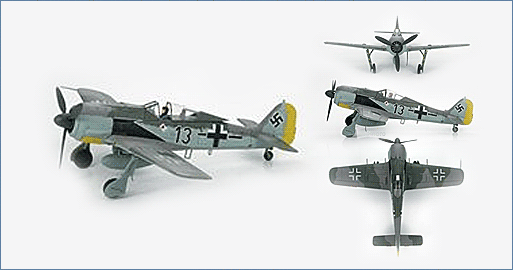 General Background
In 1937 the Me-109 was an excellent aircraft but the Reich Air Ministry wanted a new advanced fighter that could out perform any future foreign designs. Kurt Tank's Focke-Wulf Fw-190 Würger (Butcher Bird) won the design competition by using an air-cooled radial engine. When the Fw-190 entered combat in the summer of 1941 it already was Germany's premiere piston-powered WWII fighter. Over 20,000 of all variants of the Fw-190 were built with 13,291 of these being of the 9 different "A" variants.
The Aircraft
Josef "Pips" Priller was born in 1915 and joined the military in 1935 where he had a distinguished career when WW II ended in 1945. Priller attained several ranks in the Luftwaffe with his last active duty rank of Oberstleutnant and Geschwaderkommodore of JG26. Priller gained the greatest notoriety when he and his wingman strafed Sword Beach during the D-Day Invasion. By the end of WW II Pips had flown 1,307 combat missions and racked up 101 victories, all scored over the Western Front. After so many missions and in an effort to keep him out of harms way he was appointed Inspector of Day Fighters (east) in early 1945. Priller went on to become the general manager of a brewery until his sudden death from a heart attack in 1961.
Specifications :
| | |
| --- | --- |
| Dimensions: | Wingspan – 10.5 m (34 ft 5 in) |
| | Wing Area – 18.3 m (197 sq ft) |
|   | Length – 8.96 m (29 ft 5 in) |
|   | Height – 3.96 m (13 ft) |
| Weight: | Empty – 3,470 kg (7,650 lb) |
|   | Maximum – 4,900 kg (10,800 lb) |
| Performance: | Engine – BMW 801D 1,700 hp 14-cylinder radial engine |
| | Maximum Speed – 657 kph (408 mph) (335 kts) |
|   | Service Ceiling – 10,300 m (33,800 ft) |
|   | Range – 800 km (500 mi) (435 nmi) |
| Armament: | (2) 13 mm Machine Guns plus |
|   | (4) 20 mm cannon or |
|   | (2) 20 mm cannons plus |
| | (2) 30 mm cannons |