Air Power Series>1:48 die-cast display model>FW-190>HA7406
FW-190 F8/R3 Mk.103 30mm cannon-equipped "Tank Buster"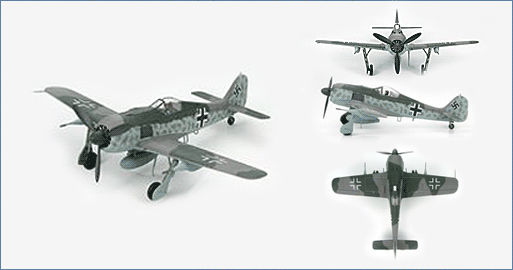 General Background
In 1937 the Me-109 was an excellent aircraft but the Reich Air Ministry wanted a new advanced fighter that could out perform any future foreign designs. Kurt Tank's Focke-Wulf Fw-190 Würger (Butcher Bird) won the design competition by using an air-cooled radial engine. When the Fw-190 entered combat in the summer of 1941 it already was Germany's premiere piston-powered WWII fighter. Over 20,000 of all variants of the Fw-190 were built with 13,291 of these being of the 9 different "A" variants.
The Aircraft
In early 1944 with things not going very well on the Eastern Front, the Luftwaffe found itself in dire need of a heavily armed attack aircraft that could destroy armored vehicles including tanks with something other than bombs. Germany had not developed weapons systems that would allow light fighter aircraft to be adapted to this role. This meant a trial and error method of finding the correct weaponry. One of the trials was labeled the Fw-190-8/R3 that along with the regular machine guns in the nose and wing roots, had two 30 mm Rheinmetall- Borsig MK 103 cannons mounted in under-wing pods. There were only two of this variant produced because recoil of the cannons were so great that it would over stress the wing structure and cause it to break apart.
Specifications :
| | |
| --- | --- |
| Role: | Single Seat Specialized Ground Attack Variant |
| First Battlefield Availability: | March 1944 |
| Users: | German Luftwaffe and RHAF (Royal Hungarian Air Force) |
| Performance: | |
| Engine: | 1 x 1,700 hp (1268 kw) BMW 801D-2 14 cylinder air-cooled radial engine Or |
| | 1 x 2,100 hp (1566 kw) with MW-50 methanol/water injection in emergency situations. |
| Maximum Speed: | 408 mph (653 km/h) with boost on |
| Initial Climb Rate: | 2,350 ft (720 m) per minute |
| Service Ceiling: | 37,400 ft (11410 m) |
| Range Using Internal Tanks Only: | 560 miles (900 km) |
| Weight: | |
| Empty: | 7,055 lbs (3200 kg) |
| Maximum Take-Off: | 10,800 lbs (4900 kg) |
| Dimensions: | |
| Wing Span: | 34 ft 5.5 in (10.50 m) |
| Length: | 33 ft 5.5 in (10.2 m) |
| Height: | 11 ft 0 in (3.35 m) |
| Wing Area: | 196.99 sq ft (18.30 sq m) |
| Armament: | (2) 13 mm (0.51 in) MG 131 machine guns above the engine |
| | (2) 20 mm MG 151/20 cannon in the wing roots |
| | (2) MG 151/20 or MK 108 cannon in outer wings |
| | Plus (1) 3,968 lbs (1800 kg) centerline bomb Or |
| | 1,102 lbs (500 kg) SC500 centerline bomb And |
| | (2) 551 lbs (250 kg) bombs on wing racks |