Air Power Series>1:48 die-cast display model>FW-190>HA7407
FW-190 A7 W.Nr380394 "Doppelreiter"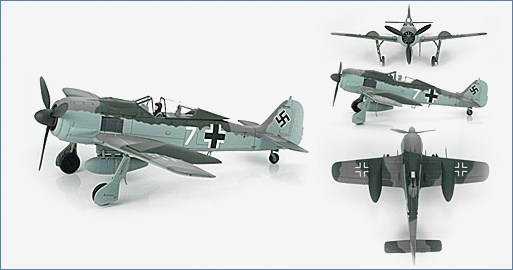 General Background
In 1937 the Me-109 was an excellent aircraft but the Reich Air Ministry wanted a new advanced fighter that could out perform any future foreign designs. Kurt Tank's Focke-Wulf Fw-190 Würger (Butcher Bird) won the design competition by using an air-cooled radial engine. When the Fw-190 entered combat in the summer of 1941 it already was Germany's premiere piston-powered WWII fighter. Over 20,000 of all variants of the Fw-190 were built with 13,291 of these being of the 9 different "A" variants.
The Aircraft
The production of the Fw-190A-7 began in November 1943 and ended in January 1944 with only 80 aircraft being produced. Fw-190-A-7 W.Nr380394 was the test aircraft for an attempt to reduce drag caused by center-line fuel tanks thereby increasing airspeed. The experiment was called "Doppelreiter" (Double Rider) and involved placing a streamlined fuel tank on top of each wing which meant reducing the armament to two 151/20 E cannons. Each tank was droppable and carried 270 liters of fuel giving the aircraft an extended range. The over the wing tanks reduced the aircraft speed by 13 kph while the standard center-line tank reduced speed by 33 kph. Even though these were positive results the RLM did not accept the modification because they didn't want to disturb regular production schedules. The A-7 was replaced by the A-8 variant
Specifications :
| | |
| --- | --- |
| Dimensions: | Wingspan – 10.5 m (34 ft 5 in) |
| | Wing Area – 18.3 m (197 sq ft) |
|   | Length – 8.96 m (29 ft 5 in) |
|   | Height – 3.96 m (13 ft) |
| Weight: | Empty – 3,470 kg (7,650 lb) |
|   | Maximum – 4,900 kg (10,800 lb) |
| Performance: | Engine – BMW 801D 1,700 hp 14-cylinder radial engine |
| | Maximum Speed – 657 kph (408 mph) (335 kts) |
|   | Service Ceiling – 10,300 m (33,800 ft) |
|   | Range – 800 km (500 mi) (435 nmi) |
| Armament: | (2) 13 mm Machine Guns plus |
|   | (4) 20 mm cannon or |
|   | (2) 20 mm cannons plus |
| | (2) 30 mm cannons |