Air Power Series>1:48 die-cast display model>FW-190>HA7410
FW-190 A-6 Lt. Luck, JG-1, Sept 1943 Checker Nose "White 9"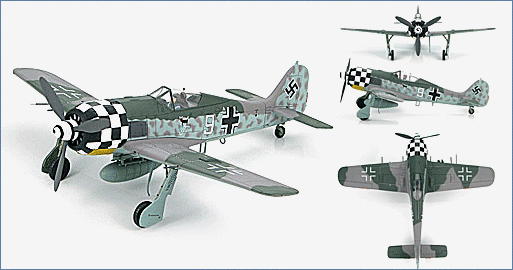 General Background
In 1937 the Me-109 was an excellent aircraft but the Reich Air Ministry wanted a new advanced fighter that could out perform any future foreign designs. Kurt Tank's Focke-Wulf Fw-190 Würger (Butcher Bird) won the design competition by using an air-cooled radial engine. When the Fw-190 entered combat in the summer of 1941 it already was Germany's premiere piston-powered WWII fighter. Over 20,000 of all variants of the Fw-190 were built with 13,291 of these being of the 9 different "A" variants.
The Aircraft
Leutnant Heinz-Gunther Luck was originally assigned to I./JG 1 and spent a short time with II. /JG 1. By the end of WWII he had 6 aerial victories, all were B-17s. Five victories were earned with I./JG 1 and one with II./JG1. One of his I./JG 1 FW-190A-6 victories came at the expense of the B-17 "Flak Happy" from the 96th BG, 337th BS that was shot down on October 8, 1943 at Neuscharrel, Germany. Lt. Luck's personal insignia displayed on the left side of the aircraft is his dog "Lucki". The black and white checkers indicated I./JG I, black and red II./JG I and black and yellow III.JG I. The color of the aircraft number corresponded with the engine cowling color, white, red or yellow. The JG I emblem represents the devil emerging from the clouds.
Specifications :
| | |
| --- | --- |
| Dimensions: | Wingspan – 10.5 m (34 ft 5 in) |
| | Wing Area – 18.3 m (197 sq ft) |
|   | Length – 8.96 m (29 ft 5 in) |
|   | Height – 3.96 m (13 ft) |
| Weight: | Empty – 3,470 kg (7,650 lb) |
|   | Maximum – 4,900 kg (10,800 lb) |
| Performance: | Engine – BMW 801D 1,700 hp 14-cylinder radial engine |
| | Maximum Speed – 657 kph (408 mph) (335 kts) |
|   | Service Ceiling – 10,300 m (33,800 ft) |
|   | Range – 800 km (500 mi) (435 nmi) |
| Armament: | (2) 13 mm Machine Guns plus |
|   | (4) 20 mm cannon or |
|   | (2) 20 mm cannons plus |
| | (2) 30 mm cannons |