Air Power Series>1:48 die-cast display model>P-26>HA7504
P-26 Peashooter 30-49, Guatemala, May 1943 "Last USAAF Peashooter"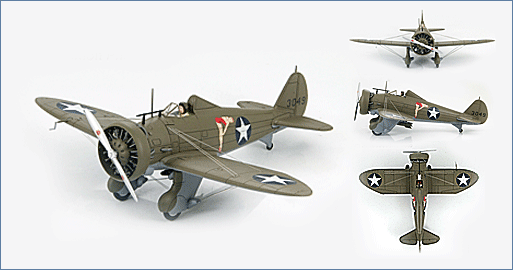 General Background
Boeing's first and last all-metal monoplane fighter produced for the US Army Air Corps. was the P-26. Known as the "Peashooter" there were 111 P-26As produced. The wings were braced with wire instead of wooden struts and this reduced drag and along with a 500 hp engine the aircraft was much faster than the older bi-planes. The mono-wing also meant a higher landing speed so flaps had to be added to slow the aircraft down. It had fixed landing gear and an open cockpit with just a windscreen to protect the pilot.
The Aircraft
P-26 had already become obsolescent and had been taken out of front line service by the USAAF after 1942. There were however, P-26s which were still flying until 1957 with Guatemala's Air Force, having been kept in service since the early 1940s.
Specifications :
| | |
| --- | --- |
| Country of origin: | USA |
| Manufacturer: | Boeing Aircraft Company |
| Role: | Fighter |
| Crew: | One |
| Dimensions: | Wing span - 27 ft. 11.5 in. |
|   | Length - 23 ft. 10 in. |
|   | Height - 10 ft. 5 in. |
| Weight: | Empty - 2,197 lbs |
|   | Maximum - 2,955 lbs. |
| Performance: | Engine - Pratt and Whitney R-1340-27 (500 hp) |
|   | Maximum speed - 234 mph (203 knots) |
|   | Cruising speed - 199 mph (172 knots) |
|   | Landing Speed - 82 mph (71.26 knots) |
|   | Range - 360 statute miles (313 nautical miles) |
|   | Service ceiling - 27,400 ft. |
| Armament | 2 X fixed .30-cal. machine guns or, |
|   | 1 X .50- and one .30-cal. machine gun and |
|   | Up to 200 lbs. of bombs |