Air Power Series>1:48 die-cast display model>P-26>HA7505
Boeing P-26A US Army, 33-77 Bolling Field, D.C.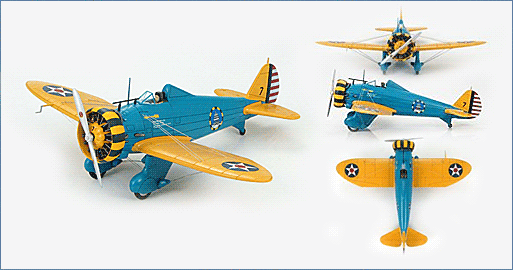 General Background
Boeing's first and last all-metal monoplane fighter produced for the US Army Air Corps. was the P-26. Known as the "Peashooter" there were 111 P-26As produced. The wings were braced with wire instead of wooden struts and this reduced drag and along with a 500 hp engine the aircraft was much faster than the older bi-planes. The mono-wing also meant a higher landing speed so flaps had to be added to slow the aircraft down. It had fixed landing gear and an open cockpit with just a windscreen to protect the pilot.
The Aircraft
In 1917 it was called Flying Field Anacostia but renamed Bolling Field on July 1,1918. Colonel Raynal Bolling was the first high-ranking U.S. officer killed in WWI combat. On March 26, 1918 near Amiens, France Col. Bolling died defending himself and his driver from German soldiers. The field was used for personnel proficiency flying and supporting flights such as Colonel Henry "Hap" Arnold's 1934 4,000 mile flight of bombers to Alaska. Aircraft P-26A 33-77 stationed at Bolling Field was struck off charge in May 1935.
Specifications :
| | |
| --- | --- |
| Country of origin: | USA |
| Manufacturer: | Boeing Aircraft Company |
| Role: | Fighter |
| Crew: | One |
| Dimensions: | Wing span - 27 ft. 11.5 in. |
|   | Length - 23 ft. 10 in. |
|   | Height - 10 ft. 5 in. |
| Weight: | Empty - 2,197 lbs |
|   | Maximum - 2,955 lbs. |
| Performance: | Engine - Pratt and Whitney R-1340-27 (500 hp) |
|   | Maximum speed - 234 mph (203 knots) |
|   | Cruising speed - 199 mph (172 knots) |
|   | Landing Speed - 82 mph (71.26 knots) |
|   | Range - 360 statute miles (313 nautical miles) |
|   | Service ceiling - 27,400 ft. |
| Armament | 2 X fixed .30-cal. machine guns or, |
|   | 1 X .50- and one .30-cal. machine gun and |
|   | Up to 200 lbs. of bombs |