Air Power Series>1:48 die-cast display model>Spitfire PR>HA7604
Spitfire PR.XIX "PM631"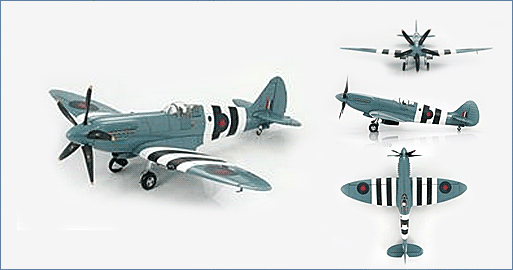 General Background
The Spitfire PR.XIX was the last Spitfire with elliptical wings and was the last RAF Spitfire type in front-line service. The PR.XIX was a combination of power by the Griffon engine of the Mk.XIV and the wings of the PR.XI making it the fastest Spitfire. Weapons were removed to allow for larger fuel tanks in the leading edge of the wings making it possible to fly missions as far as Berlin at altitudes over 40,000 feet. By the end of production 225 XIX had been made.
The Aircraft
Built in November 1945 as a high altitude photo reconnaissance aircraft with a Griffon 66 engine and pressurised cockpit, Spitfire PM631 (Mk PRXIX) PM631 was too late to see operational service in WWII. She was delivered to the RAF in 1946 and issued to 203 Advanced Flying School in May 1949. Modified for meteorological work, she was leased to Short Bros and was flown by civilian pilots with the Temperature and Humidity Monitoring (THUM) Flight based at Hooton Park and Woodvale. On 11 July 1957, in formation with Spitfires PS853 and PS915, the aircraft was flown to Biggin Hill to form the Historic Aircraft Flight which later developed into the BBMF. Unlike the other two Mk XIXs that spent time as gate guardians, PM631 has remained in flying condition with the Flight and is the BBMF's longest serving aircraft, with 2008 being her 51st year of continuous service on display duties.
Specifications :
Number Produced :
225
Performance:
Engine:
(1) Rolls-Royce liquid-cooled Griffon 66 / 12-cylinder developing 2,035 HP @ 2,134 m (7,000 ft.)
The difference between the Griffon 65 and the 66 was the 66 had a blower to provide cockpit pressurization.
Fuel Capacity:
Internal:
954 L (252 gal)
External:
Optional slipper tank/drop tank 85 L or 643 L (90 gal or 170 gal) these were seldom used on this Spitfire model because the added drag eliminated any benefits.
Maximum Speed:
735 km/h (457 mph)
Cruise Speed:
580 km/h (360 mph)
Maximum Altitude:
Approximately 14,000 m (approximately 45,000 ft)
Normal altitude for vertical photography:
9000 m (29,530 ft)
Range:
880 km (547 miles)
Maximum Range:
1,125 km (699 miles) with a slipper tank/drop tank
Dimensions:
Length:
9.96 m (32.68 ft)
Wingspan:
11.23 m (36.84 ft)
Weapons:
None, only equipped with (2) vertical cameras with a focal length of 920 mm and (1) oblique camera with a focal length of 350 mm.