Air Power Series>1:48 die-cast display model>P-51>HA7702
North America Mustang Mk.IVA No.112 Sqn. RAF, spring Italy 1945 "GA-S"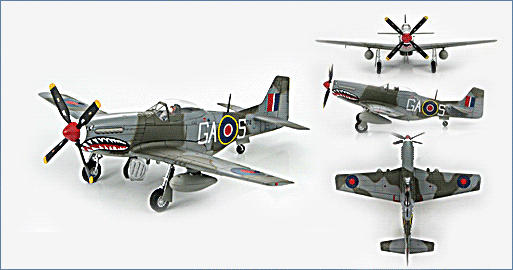 General Background
Later in WWII the Allied bombers were flying deep into Germany but suffered tremendous losses because of the lack of range the fighter escorts had. German fighters would wait beyond the range of the Allied fighters and then attack the vulnerable bombers. Once the P-51 called Mustang by the British had the Allison engine replaced with a British Merlin it possessed the high performance that had been lacking. With drop tanks the P-51 had the range to escort bombers all the way to Berlin and back.
The Aircraft
The Mustang Mk. IVA served with the 112 Squadron from February 1945 until December 1946. In early May 1945 this particular aircraft KH774, GA-S was flown by Lt. Blanchford based at Cervia, Italy. They operated along the Adriatic coast of Italy doing fighter-bomber duties but also seemed to like attacking bridge targets. Aircraft KH774 was Struck Off Charge (SOC) on February 27, 1947. The 112 Squadron was nicknamed the "Shark Squadron" because they were the first unit from any air force to use the shark mouth pattern on P-40s.
Specifications :
| | |
| --- | --- |
| Tasks: | Dive-bomber, bomber-escort, ground-attack, interceptor, photo recon |
| Number Produced All Variants: | 14,819 |
| Dimensions | |
| Height: | 13 ft 8 in (4.16 m) |
| Wingspan: | 37 ft (11.27 m) |
| Length: | 32 ft 3 in (9.82 m) |
| Weight | |
| Empty: | 7,125 lb (3,232 kg) |
| Gross: | 10,100 lb (4,581 kg) |
| Maximum Take-off: | 11,600 lb (5,262 kg) |
| Performance | |
| Engine: | Packard Merlin two-staged supercharged V-1650-7, 12 cylinder V engine 1,695 hp. |
| Maximum Speed: | 437 mph (703 km/h) |
| Ceiling: | 41,900 ft (12,771 m) |
| Range: | 950 miles (1,529 km) |
| Maximum Range: | 2,300 miles (3,701 km) |
| Armament | (6) .50 caliber MG |
| | Maximum External Bomb Load – 2,000 lb (907 kg) |
| | Or (4) .5 inch rockets |