Air Power Series>1:48 die-cast display model>Spitfire>HA7804
Spitfire Mk.I 19 Sqn, RAF, Duxford 1938 "K9795"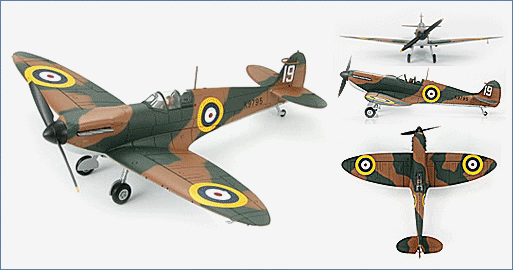 General Background
The Spitfire Mk.1 first became operational in July 1938. At the beginning of WWII 9 RAF squadrons were equipped with the Mk.1's. By June 1940 the Mk.1 was being replaced by the faster long-range Mk.II but not before the Mk.I had bore the brunt of the Battle of Britain. The Mk.I also flew protective cover over the evacuation of Dunkirk. The Mk.1A had 8 machine guns instead 4, a bulged canopy, a 3-blade propeller, self-sealing fuel tanks, armored windscreen and armor plating in front of and behind the pilot.
The Aircraft
K9795 was the ninth production Spitfire Mk.I and assigned to No. 19 Squadron commanded by Sqn. Ldr. Iliffe Cozens located at Duxford. 19 Squadron received the first Mk.I's because Duxford was being expanded and could handle the high-performance aircraft also VIP from London were close enough to access the new fighter. The number 19 markings using white signified the aircraft belonged to "B" Flight, yellow was used for "A" Flight. On October 14, 1940 K9795 crashed due to engine failure. The pilot was uninjured but the aircraft was a write-off and SOC (Struck Off Charge).
Specifications :
| | |
| --- | --- |
| Basic Information : |   |
| Role: | Interceptor Fighter |
| Mk.1A Produced: | 1,536 |
| Crew: | one |
| Performance: |   |
| Engine: | 1 x Rolls-Royce Merlin III, liquid-cooled, V12 |
| | HP @ Altitudes – 1,030 hp @ 16,250 ft (4,953 m) |
| | 880 HP @ take-off |
| Speed: | |
| Maximum @ 20,000 ft (6,100 m): | 353 mph (568 kph) |
| Cruising: | 210 mph (338 kph) |
| RoC (Rate of Climb): | |
| Initial: | 2,530 ft/min (771 m/min) |
| Time to 20,000 ft (6,096 m): | 9 minutes 25 seconds |
| Service Ceiling: | 31,900 ft (9,723 m) |
| Normal Range: | 395 miles (637 km) |
| Endurance: | 1.78 hrs |
| Weight: |   |
| Empty: | 5,040 lb (2,286 kg) |
| Full: | 6,150 lb (2,789 kg) |
| Dimensions: | |
| Length: | 29 ft 11 ins. (9.12 m) |
| Height to tip of propeller: | 11 ft 5 ins (3.48 m) |
| Wingspan: | 36 ft 10 ins. (11.23 m) |
| Armament: | 8 x 0.303 in (7.7 mm) Browning machine guns, 300 rounds/gun |