Air Power Series>1:48 die-cast display model>Spitfire>HA7806
Spitfire Mk.II "P8081" Flt Lt Adolphe Vybiral, No 312 "Czech" Sqn, Ayr, Nov 1941 "Garfield Weston IV"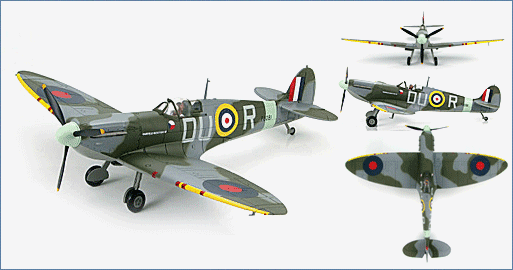 General Background
The Spitfire Mk.1 first became operational in July 1938 at Duxford, Cambridge. At the beginning of WWII 11 RAF squadrons were equipped with the Mk.1's. By June 1940 the Mk.1 was being replaced by the faster long-range Mk.II but not before the Mk.I had bore the brunt of the Battle of Britain. The Mk.I also flew protective cover over the evacuation of Dunkirk. The Mk.1A had 8 machine guns instead 4, a bulged canopy, a 3-blade propeller, self-sealing fuel tanks, armored windscreen and armor plating in front of and behind the pilot.
The Aircraft
Adolphe Vybiral joined the French Air Force and is credited with 7 victories while flying a Curtiss Hawk 75 during the Battle of France. He left France joined No. 312 Squadron known as the "Czech" Squadron. At first he flew Hurricanes and then a Spitfire Mk.IIa P8081 named "Garfield Weston IV". Garfield Weston was a Canadian philanthropist who donated £100,000 to the Spitfire Fund. Vybiral later commanded 312 Squadron and is credited with 6.5 victories.
Specifications :
| | |
| --- | --- |
| Basic Information : |   |
| Role: | Interceptor Fighter |
| Mk.1A Produced: | 1,536 |
| Crew: | one |
| Performance: |   |
| Engine: | 1 x Rolls-Royce Merlin III, liquid-cooled, V12 |
| | HP @ Altitudes – 1,030 hp @ 16,250 ft (4,953 m) |
| | 880 HP @ take-off |
| Speed: | |
| Maximum @ 20,000 ft (6,100 m): | 353 mph (568 kph) |
| Cruising: | 210 mph (338 kph) |
| RoC (Rate of Climb): | |
| Initial: | 2,530 ft/min (771 m/min) |
| Time to 20,000 ft (6,096 m): | 9 minutes 25 seconds |
| Service Ceiling: | 31,900 ft (9,723 m) |
| Normal Range: | 395 miles (637 km) |
| Endurance: | 1.78 hrs |
| Weight: |   |
| Empty: | 5,040 lb (2,286 kg) |
| Full: | 6,150 lb (2,789 kg) |
| Dimensions: | |
| Length: | 29 ft 11 ins. (9.12 m) |
| Height to tip of propeller: | 11 ft 5 ins (3.48 m) |
| Wingspan: | 36 ft 10 ins. (11.23 m) |
| Armament: | 8 x 0.303 in (7.7 mm) Browning machine guns, 300 rounds/gun |