Air Power Series>1:48 die-cast display model>F4U>HA8222
F4U-1A Corsair 915, VMF-214 "Black Sheep", Jan 3rd, 1944 "Major Greg Boyington's last mission"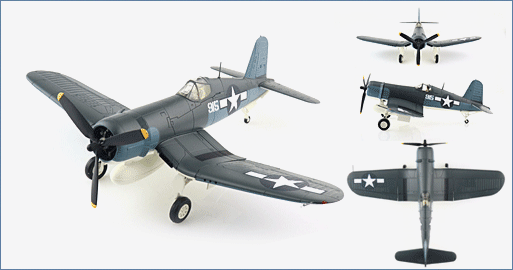 General Background
The Vought F4U Corsair was literally built around the Pratt & Whitney 2,000 HP radial engine. The engine was so massive and produced so much energy that a Hamilton Standard 13 feet 4 inch propeller, the largest of WWII, was required. The F4U was the first American fighter aircraft to exceed 400 MPH. The Corsair was referred to by the Japanese as "Whispering Death" and became a legend in its own time. This aircraft was one of the most distinctive designs with it bent wings making it an icon.
The Aircraft
Gregory "Pappy" Boyington joined the "Flying Tigers" (1st American Volunteer Group) of the Republic of China Air Force and saw combat in Burma in late 1941 and 1942. In September 1942, Boyington rejoined the Marine Corps and in September 1943, he took command of VMF-214 "Black Sheep". In January 1944, Boyington, outnumbered by Japanese "Zero" planes, was shot down into the Pacific Ocean after downing one of the enemy planes. He was captured by a Japanese submarine crew and was held as a prisoner of war for more than a year and a half. He was released shortly after the surrender of Japan.
Specifications :
| | |
| --- | --- |
| Total Aircraft Manufactured: | 12,571 of 24 variants |
| Manufactured By: | Vought and under license by Goodyear and Brewster |
| Crew: | 1 pilot |
| Performance | |
| Powerplant: | 1 x Pratt & Whitney R-2800-8W radial engine producing 2,250 HP (1,678 kW) |
| Maximum Speed: | 425 mph (369 kn / 684 kph) |
| Service Ceiling: | 36,900 ft (11,200 m) |
| Rate of Climb: | 3,180 ft/min (16.2 m/s) |
| Range: | 1,015 mi (882 nm / 1,633 km) |
| Dimensions | |
| Length: | 33 ft 4 in (10.1 m) |
| Wingspan: | 341 ft 0 in (12.5 m) |
| Height: | 16 ft 1 in (4.9 m) |
| Weights: | |
| Empty: | 8,982 lb (4,073 kg) |
| Loaded: | 14,000 lb (6,300 kg) |
| Armament: | |
| Guns: | 6 x 0.50 in (12.7 mm) AN/M2 Browning Machine guns with 400 rounds per gun for 4 and 375 rounds per gun for two |
| Rockets: | 4 x 5 in. (12.7 cm) High Velocity Aircraft Rockets |
| Bombs: | 2,000 lbs. (910 kg) |