Air Power Series>1:48 die-cast display model>Hawker Hurricane>HA8608
Hawker Hurricane Mk.I P3854 of 85 Sqd RAF, flown by Sqd Ldr Peter Townsend, 1940 "Battle of Britain"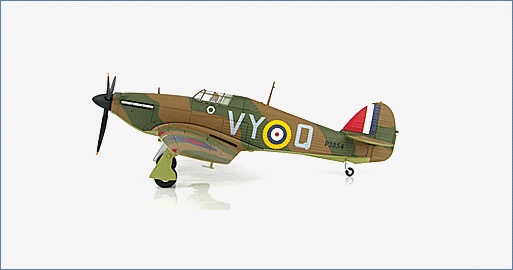 General Background
The Hawker Hurricane was the first British single-engine fighter and the first single wing aircraft with retractable landing gear as well as an enclosed cockpit and 8 machine guns. The Hurricane went into operational service in December 1937 with the RAF 111 Squadron. The Hurricane is usually over looked as a major player in the BoB because of the Spitfire but 80% of the 1,792 German aircraft shot down were because of the Hurricane. There were 14,533 Hurricanes produced in all variants.
The Aircraft
On August 31, 1940 Sqn Ldr P W Townsend of the RAF No. 85 Squadron was flying Hurricane Mk.I P3166 when he shot down a Do-17 named Gustav Marie and was hit by return fire damaging the Hurricane making it necessary to ditch in the English Channel. After some time recuperating Townsend returned to the No. 85 Squadron on September 21, 1940 and was assigned Hurricane Mk.I P3854. After the war Townsend became friends with the German bomber gunner who shot him down and wanted to marry the sister of the woman who would become Queen of England.
Specifications :
| | |
| --- | --- |
| Manufacturer : | Hawker Industries |
| Country : | UK |
| First Year of Service : | 1937 |
| Production: | 14,583 |
| Crew: | 1 |
| Dimensions | |
| Length : | 31.4 ft (9.57 m) |
| Wingspan: | 39.99 ft (12.19 m) |
| Height: | 13.12 ft (4.0 m) |
| Weight: | |
| Empty: | 4,982 lb (2,260 kg) |
| Maximum Takeoff: | 6,446 lb (2,924 kg) |
| Performance: | |
| Power plant: | 1 x Rolls-Royce Merlin III 12-cylinder Liquid-cooled Producing 1,030 hp |
| 2 Bladed Propeller | |
| Later Production Power plant: | 3,164 x Merlin III producing 1,029 hp with a Three-Blade Propeller |
| Maximum Speed : | 318 mph (511 kmh / 276 kts) |
| Maximum Range : | 460 miles (740 km) |
| Service Ceiling : | 35,991 ft (10,970 m) |
| Rate of Climb : | 2,520 ft/min (768 m/min) |
| Armament : | |
| Early Production : | Hard points – 2 |
| | Machine Guns – 8 x 7.7 mm Colt-Browning in Wings |
| Later production : | Machine Guns – 8 or 12 x 7.7 mm Colt-Browning in Wings |
| | Hispano Canons – 4 x 20 mm in the Wings |
| Optional: | Bombs Under-Wings |
| | 2 x 250 lb |
| | or |
| | 500 lb |
| | 8 x Unguided Rockets Under-Wings |
| | 2 x 40 mm Canons Under-Wings |