Air Power Series>1:72 die-cast display model>MIG-21>HA0181A
MIG-21 Jet Fighter 5112, flown by Lt. Nguyen Hong My, North Vietnamese Air Force, 16 April, 1972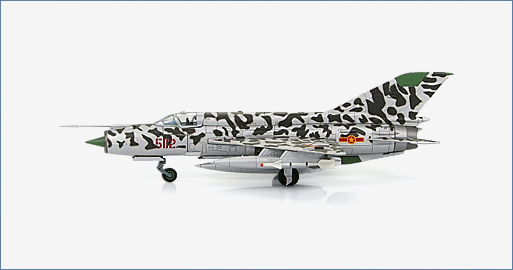 General Background
The Mikoyan-Gurevich Mig-21 is probably the world most widely used supersonic fighter. It was used by over 30 countries and 56 air forces. An estimation of over 10,000 units was produced for the Soviet Union alone.

The MIG-21 has a top speed of Mach 2 and it is famed for its ease of maintenance and effectiveness during air combats. It first achieved renown in the Vietnam War where it posed itself a challenging adversary for some more technological advanced aircrafts like the F-105 and F-4 Phantom. The Mig-21 is certainly one of the most famous aircrafts in the world for all times.
The Aircraft
In the early 1960's Lt. Nguyen Hong My of the North Vietnamese Air Force was trained to fly MiG-21s in the Soviet Union and was presented his pilot wings by Ho Chi Minh. Hong My is credited with downing one American aircraft. On April 16, 1972 Hong My's MiG-21 was downed by Major Dan Cherry flying F-4D 66-7550. Lt. Nguyen Hong My broke both arms and injured his back but recovered to fly two more years. Retired Brigadier General Dan Cherry and Lt. Nguyen Hong My have since become friends.
Specifications :
| | |
| --- | --- |
| Dimensions: | |
| Wingspan: | 7.154 m / 23.47 ft |
| Length: | 14.7 m / 48.23 ft |
| Fuselage length: | 12.285 m / 40.3 ft |
| Height: | 4.710 m / 15.4 ft |
| Wing area: | 23.00 m2 247.5 sq. ft |
| Weight: | |
| Normal take-off: | 8300 kg / 18,298 lb |
| Maximum take-off: | 9400 kg / 20,723 lb |
| Performance: | |
| Engines: | 1 X Tumansky R-13-300 |
| Trust: | 14,550 lbs / 6599.76 kg |
| Maximum Speed: | At altitude – 2230 km/h / 1386 mph |
| | At sea level – 1300 km/h / 808 mph |
| Rate of climb: | 205 m/s / 672.57 ft/s |
| Service celling: | 18,000 m / 59,055 ft |
| Armament: | |
| Hard-point: | 5 |
| Canon: | Semi-internal 1.23 mm GSh-23L mounted under the fuselage on the centerline in front of the pylon. |
| Optional: | 4 X R-13 (AA-2 Atoll) air-to-air missiles. |
| | Could carry bomb load up to 499.86 kg / 1,102 lb. |
| | UB-16-57U 16 shot and UD-J2A 32 shot rocket pods. |
| | Plus other standard Soviet air-to-ground ordnance. |