Air Power Series>1:72 die-cast display model>MIG-21>HA0190
MIG-21FL 5081, United Arab Republic Egyptian Air Force, Six-Day War, 1967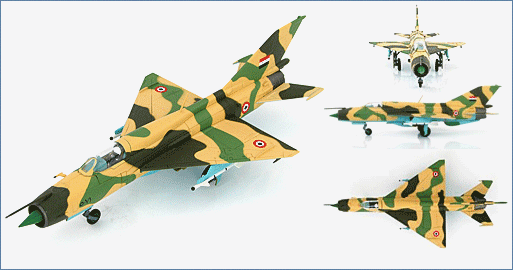 General Background
The Mikoyan-Gurevich Mig-21 is the world most widely used supersonic fighter which has been used by over 30 countries and 56 air forces. It is the most produced aircraft since World War II with an estimation of over 10,000 in the Soviet Union alone.

The Mig-21 has a top speed of Mach 2 and has proven to be an effective and easy to maintain aircraft in many conflicts. It first achieved renown in the Vietnam War where it posed itself a challenging adversary for more technological advanced aircrafts like the F-105 and F-4 Phantom. The Mig-21 is certainly one of the most famous aircrafts in the world for all times.
The Aircraft
The Six Day War took place from June 5 to June 10 1967. The participants were an alliance of Arab countries consisting of Egypt, Syria, Jordan and Iraq against Israel. Israel was aware of the build up of the neighboring Arab states armed forces and decided to launch a preemptive strike on June 5. Israel inflicted heavy losses on the Arab nations and captured the Sinai Peninsula, Gaza Strip, West Bank, Golan Heights and Jerusalem. A UN cease-fire was agreed to on June 10.

The MiG-21FL is a downgraded variant of the MiG-21PF and meant for the Third World market. It is has the lesser powerful R11F-300 engine. This variant also lacks the ability to carry RS-2US beam-riding missiles and has the basic version of the RP-21 radar. The FL has a wide chord fin as well as a brake chute fairing.
Specifications :
| | |
| --- | --- |
| F: | Forsazh (Reheat) |
| L: | Lokator (Radar) |
| Engine: | Tumansky R11F-300 |
| Thrust: | 38.3/56.4 kN dry/reheat |
| | 8600/12680 lbf dry/reheat |
| Armament: | No internal canon |
| | Center Pylon – 1 x PTB-490 |
| | Inboard hardpoints – 1 x K-13/R-3S, 1 x UB-16-57U, 1 x FAB-100/250 |
| Avionics: | Radio – RSIU-5G |
| | IFF – SRO-1 |
| | ADF – ARK-10 |
| | RWR – SPO-2 Sirena-2 |
| | Gunsight – PKI |
| | Radar – R1L |
| | Transponder – SOD-57M Globus-2 |