Air Power Series>1:72 die-cast display model>F-104>HA1011
CF-104 Starfighter RCAF "701"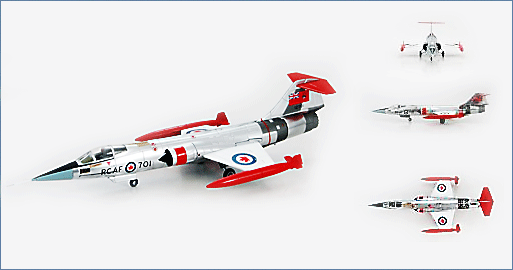 General Background
The F-104 Starfighter was an military aircraft with revolutionary designs. It had short razor-sharp wings and was the first aircraft to be able to maintain Mach 2 not just in short bursts. This extremely high speed earned the plane the nickname "The Missile With A Man In It". Because of financial considerations 15 or more countries purchased the F-104. The Starfighter flew with the USAF in 1958 and the last airplane was decommissioned in Italy in 2004.
The Aircraft
The CF-104 was manufactured by the Canadair under the licence from Lockheed Martin. It entered service in 1962 and served for the RCAF and the CAF until replaced by the CF-18. Though basically similar to the F-104, the CF-104 was optimized for the nuclear strike/reconnaissance role.
Specifications :
First Flight:
(XF-104) February 7, 1954
Crew:
1 pilot
Dimensions
Height:
13.50 ft (4.11 m)
Wingspan:
21.92 ft (6.68 m)
Wing Area:
196.1 ft2 (18.22 m2)
Length:
54.75 ft (16.69 m)
Weight
These aircraft were stripped of any military equipment in an effort to reduce weight
Empty:
14,082 lb (6,387 kg)
Max Takeoff:
28,779 lb (13,054 kg)
Fuel Capacity:
Internal: 5,822 lb (2,641 kg) / External: 5,538 lb (2,512 kg)
Max Payload:
4,310 lb (1,995 kg)
Propulsion
Power plant:
1 X General Electric J79-19 turbojet
Thrust:
10,000 lb (44.5 kN) / 15,800 lb (70.28 kN) with afterburner
Performance
Max Level Speed:
at altitude - 1,450 mph (2,335 km/h) at 36,000 ft (10,975 m), Mach 2.2 / at sea level - Mach 1.2
Initial Climb Rate:
50,000 ft (15,239 m)/min
Service Ceiling:
58,000 ft (17,680 m) / 90,000 ft (27,430 m) zoom ceiling
Range:
typical - 260 nm (480 km) with max payload / ferry - 1,576 nm (2,920 km)