Air Power Series>1:72 die-cast display model>F-104>HA1016
Lockheed CF-104 s/n 104783, No. 417 Sqn. 1983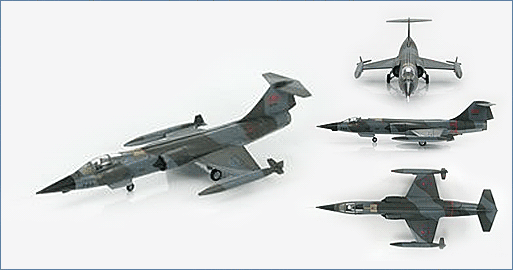 General Background
The F-104 Starfighter was an military aircraft with revolutionary designs. It had short razor-sharp wings and was the first aircraft to be able to maintain Mach 2 not just in short bursts. This extremely high speed earned the plane the nickname "The Missile With A Man In It". Because of financial considerations 15 or more countries purchased the F-104. The Starfighter flew with the USAF in 1958 and the last airplane was decommissioned in Italy in 2004.
The Aircraft
The 417 had been disbanded but in 1970 were re-formed as the Canadian Armed Forces 417 Operational Training Unit for CF-104s at CFB Cold Lake, Alberta. Later the squadron was re-designated 417 Strike/Reconnaissance Operational Training Squadron. In April 1983 the CF-104 was phased out and so was the 417 S/ROTS.

S/N 104783 spent its entire life in Cold Lake and took part in several display teams. On September 7, 1988 the aircraft was struck off inventory and placed on display at the Atlantic Canada Aviation Museum near Halifax Nova Scotia airport.
Specifications :
First Flight:
(XF-104) February 7, 1954
Crew:
1 pilot
Dimensions
Height:
13.50 ft (4.11 m)
Wingspan:
21.92 ft (6.68 m)
Wing Area:
196.1 ft2 (18.22 m2)
Length:
54.75 ft (16.69 m)
Weight
These aircraft were stripped of any military equipment in an effort to reduce weight
Empty:
14,082 lb (6,387 kg)
Max Takeoff:
28,779 lb (13,054 kg)
Fuel Capacity:
Internal: 5,822 lb (2,641 kg) / External: 5,538 lb (2,512 kg)
Max Payload:
4,310 lb (1,995 kg)
Propulsion
Power plant:
1 X General Electric J79-19 turbojet
Thrust:
10,000 lb (44.5 kN) / 15,800 lb (70.28 kN) with afterburner
Performance
Max Level Speed:
at altitude - 1,450 mph (2,335 km/h) at 36,000 ft (10,975 m), Mach 2.2 / at sea level - Mach 1.2
Initial Climb Rate:
50,000 ft (15,239 m)/min
Service Ceiling:
58,000 ft (17,680 m) / 90,000 ft (27,430 m) zoom ceiling
Range:
typical - 260 nm (480 km) with max payload / ferry - 1,576 nm (2,920 km)