Air Power Series>1:72 die-cast display model>F-104>HA1017
Lockheed F-104G "26 + 72", German Marine "Vikings"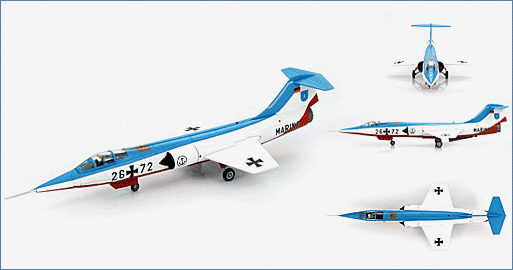 General Background
The F-104 Starfighter was an military aircraft with revolutionary designs. It had short razor-sharp wings and was the first aircraft to be able to maintain Mach 2 not just in short bursts. This extremely high speed earned the plane the nickname "The Missile With A Man In It". Because of financial considerations 15 or more countries purchased the F-104. The Starfighter flew with the USAF in 1958 and the last airplane was decommissioned in Italy in 2004.
The Aircraft
On August 14, 1983 the German Navy formed a two aircraft demonstration team. They named them "The Vikings" and they flew the F-104G Starfighter painted in standard Germany Navy colors grey and light grey. The team originally performed an eight minute routine but extended it to twelve minutes.

The team was so successful that in the 1984 season a second identical team was formed. Now "The Vikings" could perform in two places at the same time. In 1986 the team expanded their season to include a North American tour through the USA and Canada. The team was based at Eggebeck AB, in the state of Schleswig-Holstein so when they returned home the aircraft were given a special white, blue and red paint scheme. The colors are those of Schleswig-Holstein. However after the fifth show on September 27, 1986 the team was disbanded due to the fact that the F-104G was being retired from service. Over the three shorts years of performing some 6 million spectators were able to enjoy more than 60 displays worldwide.
Specifications :
| | |
| --- | --- |
| Manufacturer: | Lockheed |
| Designation: | F-104G Starfighter |
| Crew: | 1 (pilot) |
| Length: | 16.66 M. |
| Height: | 4.09 M |
| Wingspan: | 6.63 M |
| Wing Area: | 18.22 Sq. M |
| Empty weight: | 6345 Kg. |
| Gross weight: | 9362 Kg. |
| Max. weight: | 13171 Kg |
| Range: | 1754 Km |
| Cruise Speed: | 821 km/h |
| Max. Speed: | 1844 km/h |
| Climb: | 14,630 M/min |
| Ceiling: | 15240 M. |
| Wing loading: | 563kg/m2 |
| Powerplant: | 1General Electric J-79-GE-11A (A/B 7,067 Kg.) |
| Thrust: | 4356 Kg |