Air Power Series>1:72 die-cast display model>F-104>HA1052
Lockheed F-104DJ Starfighter 207 Sqn., JASDF "26-5001"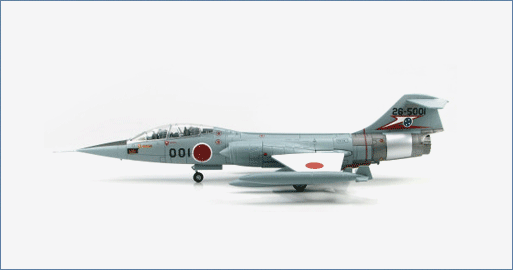 General Background
The F-104 Starfighter was the first aircraft to be able to maintain Mach 2 not just in short bursts. The Starfighter shattered speed and rate of climb records that still are impressive today. This extremely high speed earned the plane the nickname "The Missile With A Man In It". The F-104 was operated by approximately 15 countries. The Starfighter first flew with the USAF in 1958 and the last airplane was decommissioned in Italy in 2004.
The Aircraft
The Japanese Air Self Defense Force operated 210 F-104Js and 20 F-104DJs. The DJ was the two-seater version of the J. The DJ electronics and other systems were compatible with the single-seat J. The F-104 entered service with the JASDF in October 1966. These aircraft were used solely for interceptor roles. The last JASDF F-104 was retired in March 1986. Some of the retired aircraft were transferred to Taiwan. F-104DJ 26-5001 was c/n 583B-5401, the first aircraft built of this variant.
Specifications:
| | |
| --- | --- |
| F-104DJ is the dual-control variant | |
| Engine: | 1 x 15,600-lb thrust J79-IHI-11A Japanese-built GE J79-GE-11A afterburning turbojet. |
| Weight: | |
| Empty: | 13,900 lbs. |
| Max Takeoff: | 29,303 lbs. |
| Dimensions: | |
| Wing Span: | 21ft 9in |
| Length: | 54ft 8in. |
| Height: | 13ft. 5in. |
| Performance: | Maximum speed at 50, 000 ft. – 1,145 mph (Mach 2.2). |
| Service ceiling: | 50,000ft. |
| Rate of climb: | 48,000 ft./min. |
| Range: | 1,080 miles. |
| Armament: | 1 x 20mm six-barrel cannon only on the later versions, early versions were without it and replaced by a fuel tank |
| | 2 x wingtip mounted Sidewinder air-to-air missiles. |
| | 2 x rack-mounted air-to-air Sidewinder missiles on the fuselage forward-centerline. |
| | Provisions for wingtip mounted fuel tanks and optional fuel drop tanks under the wings |