Air Power Series>1:72 die-cast display model>F-104>HA1054
Lockheed CF-104D Starfighter Canadian Armed Force "104650"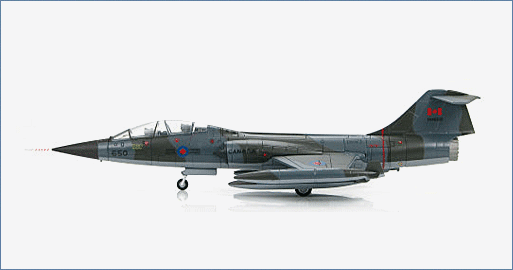 General Background
The F-104 Starfighter was the first aircraft to be able to maintain Mach 2 not just in short bursts. The Starfighter shattered speed and rate of climb records that still are impressive today. This extremely high speed earned the plane the nickname "The Missile With A Man In It". The F-104 was operated by approximately 15 countries. The Starfighter first flew with the USAF in 1958 and the last airplane was decommissioned in Italy in 2004.
The Aircraft
One of the 38 CF-104D's built was a model 583-04-15 c/n 583A-5320 and serial # 12650. #12650 was delivered to Canada on June 26, 1963. In 1968 the Canadian Military was unified under one name, Canadian Forces so no more RCAF. In 1970 with the 417 Squadron at CFB Cold Lake, Alberta the aircraft was re- serialed 104650. July 1983 the aircraft went to the 1st Canadian Air Group at CFB Baden-Söllingen, West Germany. In April, 1986 #104650 along with 5 other CF-104D's were sold to Turkey.
Specifications:
| | |
| --- | --- |
| Manufacturer: | Canadair |
| Designation: | originally a super-sonic interceptor but adapted for low level strike and reconnaissance |
| Crew: | 1 x pilot - "D" variant 2 crew |
| Dimensions: | |
| Wingspan: | 21' 11" |
| Length: | 54' 9" |
| Height: | 13' 6" |
| Wing area: | 196.1 sq. ft |
| Powerplant: | 1 x Orenda Engines J79-OEL-7, 10,000 lb. s.t. dry / 15,800 lb. s.t. with after burner |
| Performance: | |
| Maximum speed: | |
| Dash: | 1,550 mph (mach 2.35) @ 40,000' |
| | 915 mph (mach 1.2) @ sea-level |
| Climb to 30,000': | 1.5 minutes |
| Service ceiling: | 50,000 ft (12,000 m) |
| Range: | 1,630 mi (1,420 nm, 2,630 km) |
| Weights: | |
| Empty: | 13,909 lbs. |
| Clean: | 21,005 lbs |
| Maximum take-off: | 28,891 lbs |
| External stores: | |
| 5 hard points: | 1 x under the fuselage, 1 x under each wing, 1 x at each wing tip |
| Armament: | |
| External bombs and missiles such as: | Napalm bomb |
| | Cluster bomb |
| | BL755 cluster bomb |
| | 1 x 19 rocket rocket-pod |
| | Mk. 82 bomb |
| | MN1A practice bomb dispenser |
| | 1 x M61A1 Vulcan |
| | 1 x 20mm cannon added to later versions. |