Air Power Series>1:72 die-cast display model>A-4>HA1401
A-4M BuNo. 160264 "Last Skyhawk"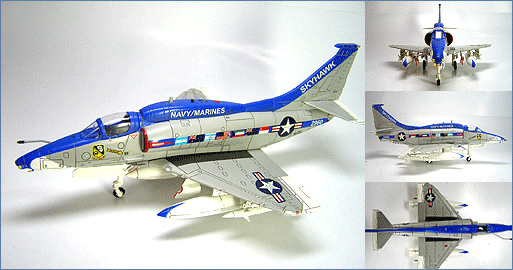 General Background
The A-4 Skyhawk is one of the most successful attack aircrafts ever built. This smallest jet aircraft ever deployed on a carrier was the product of Douglas 's Chief Engineer Ed Heinnemann in the 1952. This was the time when a more lightweight aircraft was in demand to fit into those post-war vintage carriers.

The Skyhawk was extensively used during the Cold War period and the Vietnam War by the Navy and the Marines. Because of its small size and powerful performance, the A-4 was also known as the "Heinnemann's Hot Rod". A total of 2, 960 of Skyhawk were built and many of them were exported to 8 nations besides USA .
The Aircraft
The A-4M was the Marines variant of the Skyhawk. It was basically designed as a transitional aircraft until the next generation's attack aircraft was available to meet the needs of the Marines. The first A-4M prototype flew on April 10, 1970.

This aircraft represented the A -4M BuNo.160264 which was known as the "Easter Egg" to those who saw it at MCAS Cherry Point with VMA-331. The flags along each side of the fuselage signify the countries that were using the A-4 at that time including Argentina , Australia , Israel , United States , Kuwait , New Zealand , and Singapore . Brazil was also one of the countries that have used the aircraft. The final Skyhawk was delivered on Feb 27, 1979 and it gave way to the AV-8B in the early 1990's.
Specifications :
| | |
| --- | --- |
| First flight : | June 22, 1954 (XA4D-1) |
| Total production : | almost 3,000 over a 26-year span |
| Powerplant : | one Pratt and Whitney J52-408 - (A-4M version), 11,187 pounds thrust. |
| Wingspan : | 27 ft., 6 in. (8.38 m) |
| Wing area : | 260 sq. ft. (24.16 m2) |
| Length : | 40 ft., 4 in. (12.29 m) |
| Height : | 15 ft., 10 in. (4.57 m) |
| Weight : | 10,800 lbs. empty |
| Maximum takeoff weight : | 24,500 lbs. |
| Speed : | 677 mph at sea level |
| Ceiling : | 40,600 feet |
| Armament : | two MK-12 20 mm cannons and up to 10,000 lbs of bombs. |