Air Power Series>1:72 die-cast display model>A-4>HA1402
A-4B "Gladiator" VA-106 Cdr. L. W. Baldwin USS Essex, late 60's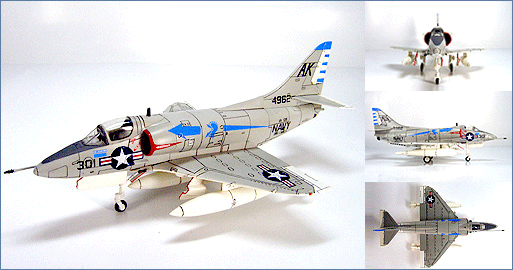 General Background
The A-4 Skyhawk is one of the most successful attack aircrafts ever built. This smallest jet aircraft ever deployed on a carrier was the product of Douglas 's Chief Engineer Ed Heinnemann in the 1952. This was the time when a more lightweight aircraft was in demand to fit into those post-war vintage carriers.

The Skyhawk was extensively used during the Cold War period and the Vietnam War by the Navy and the Marines. Because of its small size and powerful performance, the A-4 was also known as the "Heinnemann's Hot Rod". A total of 2, 960 of Skyhawk were built and many of them were exported to other countries.
The Aircraft
The first US Navy A-4 Skyhawk entered service in the mid of 1950s to replace the A-1 Skyraider . VA-106 started as Strike-Fighter Squadron ONE ZERO SIX in January 1945 but became VA-106 "The Gladiators" in 1955. A total of 542 A-4B Skyhawks were manufactured, many of which were later modified and/or refurbished and sold to foreign countries. The Skyhawk flew more missions than any other US Navy plane during the Vietnam War and because it was so nimble it was chosen by the US Navy aerobatic team the "Blue Angels".
Specifications :
| | |
| --- | --- |
| Wing Span : | 27 ft 6 in |
| Length : | 39 ft 5 in |
| Height : | 15 ft |
| Weight : | 20,000 lbs (loaded) |
| Maximum Speed : | 664 mph |
| Service Ceiling : | 20,100 ft |
| Range : | 1,160 miles |
| Engines : | 1 Wright J65-W-20 turbojet, 8,400 lbs thrust |
| Crew : | 1 |