Air Power Series>1:72 die-cast display model>A-4>HA1405
A-4G 805 Squadron RAN Nowra NAS Australia 1982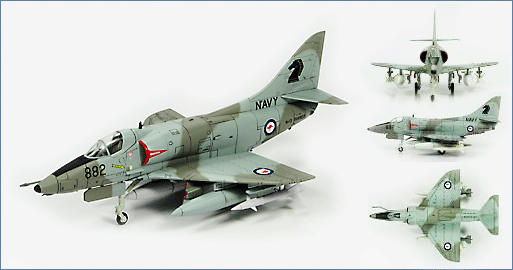 General Background
The A-4 Skyhawk is one of the most successful attack aircrafts ever built. This smallest jet aircraft ever deployed on a carrier was the product of Douglas's Chief Engineer Ed Heinnemann in the 1952. This was the time when a more lightweight aircraft was in demand to fit into those post-war vintage carriers.

The Skyhawk was extensively used during the Cold War period and the Vietnam War by the Navy and the Marines. Because of its small size and powerful performance, the A-4 was also known as the "Heinnemann's Hot Rod". A total of 2, 960 of Skyhawk were built and many of them were exported to other countries.
The Aircraft
In November 1967 the RAN received eight A-4G aircraft and #882 was assigned to 805 Squadron. These aircraft didn't have avionic humps and had red and white checkerboard tails. A few years later the "Checkmates" replaced the checkerboard with a chess piece black knight figure. Aircraft #882 spent time with the "Checkmates" Aerobatic Team before being sold to the RNZAF "Kiwi Red" Aerobatic Team in 1984. In 1989 the plane was damaged and spent 2 years being repaired before returning to service. In 2001 the plane was destroyed killing the pilot.
Specifications :
Based on the A-4F - new ejection seat, wing lift spoilers, nose wheel steering, optional external in-flight refueling buddy tank and additional weapons options.
Manufacturer:
McDonnell Douglas
Type:
Carrier-borne light attack fighter bomber
Number purchased:
16
Delivered:
1967
Crew:
one
Weight:
10,100 lbs empty - 24,500 lbs loaded
Dimensions:
Wing Span – 27 ft. 6 in. /  Length – 44 ft. /  Height – 15 ft.
Engine:
1 X Pratt & Whitney J52-P8A 9,300 lb thrust
Performance:
Ceiling - 40,000 ft.
 
Speed -  756.75 mph  ( 657.6 kts)  
 
Range - 2,000 mi. (ferry)
Armament:
Guns – 2 X 20 mm cannons 100 rounds per gun, 250lb or 500lb bombs, 2.75in or 5in rocket pods, AIM-9B Sidewinder IR AAMs