Air Power Series>1:72 die-cast display model>A-4>HA1414
A-4G Skyhawk No.805 Sqn., HMAS Melbourne, Royal Australian Navy, June 1977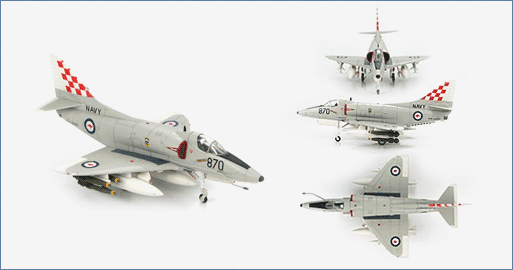 General Background
The A-4 Skyhawk is one of the most successful attack aircrafts ever built. This smallest jet aircraft ever deployed on a carrier was the product of Douglas's Chief Engineer Ed Heinnemann in the 1952. This was the time when a more lightweight aircraft was in demand to fit into those post-war vintage carriers.

The Skyhawk was extensively used during the Cold War period and the Vietnam War by the Navy and the Marines. Because of its small size and powerful performance, the A-4 was also known as the "Heinnemann's Hot Rod". A total of 2, 960 of Skyhawk were built and many of them were exported to other countries.
The Aircraft
After being disbanded for 5 years 805 Squadron reformed for the third time on 10 January 1968. This time they would fly the McDonnell Douglas A-4G Skyhawk lightweight strike fighter. For 14 years 805 Squadron was based at NAS Nowra and operated from the carrier HMAS Melbourne for operational missions. In 1982 RAN's sole carrier was decommissioned so once again the 805 Squadron was disbanded.

The RAN received several A-4G Skyhawks that had been assigned to VF-805 "The Checkmates" and operational training school squadron the 724 Squadron at Nowra. VF- 805 was the primary combat-squadron stationed on HMAS Melbourne for operational duty and shore-based at Nowra. The RAN received A-4G at Nowra on August 11, 1971. During the early 1970's aircraft N-13 155051 served time with the "Checkmates" aerobatic team. From April 1977 to October 1977 the aircraft was onboard HMAS Melbourne for "Spithead Deployment". During this time aircraft 870 took part in the Greenham Common Air Tatoo as part of a static display and in July was involved in exercise "Highwood" in the North Sea.
Specifications :
Based on the A-4F - new ejection seat, wing lift spoilers, nose wheel steering, optional external in-flight refueling buddy tank and additional weapons options.
Manufacturer:
McDonnell Douglas
Type:
Carrier-borne light attack fighter bomber
Number purchased:
16
Delivered:
1967
Crew:
one
Weight:
10,100 lbs empty - 24,500 lbs loaded
Dimensions:
Wing Span – 27 ft. 6 in. /  Length – 44 ft. /  Height – 15 ft.
Engine:
1 X Pratt & Whitney J52-P8A 9,300 lb thrust
Performance:
Ceiling - 40,000 ft.
 
Speed -  756.75 mph  ( 657.6 kts)  
 
Range - 2,000 mi. (ferry)
Armament:
Guns – 2 X 20 mm cannons 100 rounds per gun, 250lb or 500lb bombs, 2.75in or 5in rocket pods, AIM-9B Sidewinder IR AAMs