Air Power Series>1:72 die-cast display model>A-4>HA1415
Douglas A-4K Skyhawk NZ6205, No. 75 Sqn., RNZAF, Ohakea AFB, late 1980s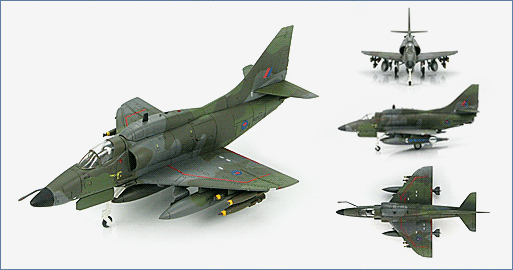 General Background
The A-4 Skyhawk is one of the most successful attack aircrafts ever built. This smallest jet aircraft ever deployed on a carrier was the product of Douglas's Chief Engineer Ed Heinnemann in the 1952. This was the time when a more lightweight aircraft was in demand to fit into those post-war vintage carriers.

The Skyhawk was extensively used during the Cold War period and the Vietnam War by the Navy and the Marines. Because of its small size and powerful performance, the A-4 was also known as the "Heinnemann's Hot Rod". A total of 2, 960 of Skyhawk were built and many of them were exported to other countries.
The Aircraft
A-4Ks were operated by Nos. 2 and 75 Squadrons RNZAF. They were based in Ohakea in New Zealand, and Nowra on the south-eastern coast of Australia - the old home of the Royal Australian Navy's A-4Gs.
Specifications :
| | |
| --- | --- |
| Type: | Carrier based, single-seat attack bomber |
| Total number of "F" variant manufactured: | 147 |
| Dimensions |   |
| Length: | 40 ft 1 in  (12.22 m) |
| Height: | 15 ft 2 in  (4.62 m) |
| Wingspan: | 27 ft 6 in  (8.38 m) |
| Wing area: | 260 sq. ft  (24.15 m2 ) |
| Weight |   |
| Empty Weight: | 9,853 lbs.  (4,469.24 kg) |
| Gross Weight: | 16,216 lbs.  (7,355.45 kg) |
| Maximum Weight: | 24,500 lbs.  (11,113.013 kg) |
| Powerplant: | 1 X Pratt & Whitney J52-P-408 |
| Thrust-lb: | 11,200 lbs.  (5080.2345 kg) |
| Performance |   |
| Range: | 2,000 miles (3,218.688 km) |
| Max. Speed: | 646 mph  (1,039.6362 kph) |
| Ceiling: | 40,000 ft  (1,2192 m) |
| Armament: | 5 X hard points capable of carrying a maximum 10,000-lbs. |
|   | 2 X 20mm cannon in wings with 100 rounds per gun. |