Air Power Series>1:72 die-cast display model>A-4>HA1416
Douglas A4D-2 (A-4B) BuNo. 145013, VA-15, USS Intrepid, 1967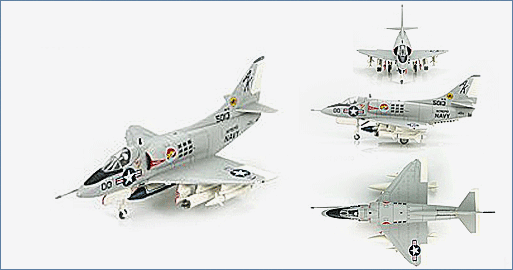 General Background
The A-4 Skyhawk is one of the most successful attack aircrafts ever built. This smallest jet aircraft ever deployed on a carrier was the product of Douglas's Chief Engineer Ed Heinnemann in the 1952. This was the time when a more lightweight aircraft was in demand to fit into those post-war vintage carriers.

The Skyhawk was extensively used during the Cold War period and the Vietnam War by the Navy and the Marines. Because of its small size and powerful performance, the A-4 was also known as the "Heinnemann's Hot Rod". A total of 2, 960 of Skyhawk were built and many of them were exported to other countries.
The Aircraft
On August 2, 1948 VA-2A was re-designated VA-15 "Valions". VA-15 spent two tours in Vietnam aboard USS Intrepid, once in 1966 and then from May 11, 1967 to December 30, 1967. In December 1966 VA-15 began transitioning to A-4C Skyhawks so several A-4Bs, including A-4B BuNo 145013 also made the second tour. On June 1, 1969 VA-15 was disestablished and merged with VA67. On June 2, 1969 the new combined unit was re-assigned VA-15 and adopted the Valions name and insignia.
Specifications :
| | |
| --- | --- |
| Wing Span : | 27 ft 6 in |
| Length : | 39 ft 5 in |
| Height : | 15 ft |
| Weight : | 20,000 lbs (loaded) |
| Maximum Speed : | 664 mph |
| Service Ceiling : | 47,900 ft |
| Range : | 1,160 miles |
| Engines : | 1 Wright J65-W-20 turbojet, 8,400 lbs thrust |
| Crew : | 1 |