Air Power Series>1:72 die-cast display model>A-4>HA1417
A-4KU Skyhawk BuNo.160188, Free Kuwait Air Force, Gulf War, Dhahran AB, Saudi Arabia Jan 1991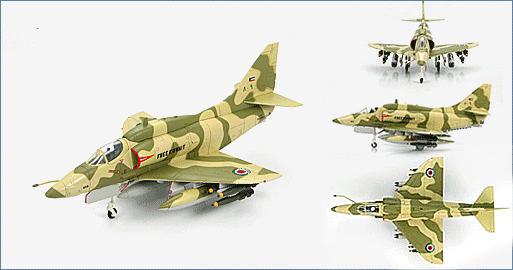 General Background
The A-4 Skyhawk is one of the most successful attack aircrafts ever built. This smallest jet aircraft ever deployed on a carrier was the product of Douglas's Chief Engineer Ed Heinnemann in the 1952. This was the time when a more lightweight aircraft was in demand to fit into those post-war vintage carriers.

The Skyhawk was extensively used during the Cold War period and the Vietnam War by the Navy and the Marines. Because of its small size and powerful performance, the A-4 was also known as the "Heinnemann's Hot Rod". A total of 2, 960 of Skyhawk were built and many of them were exported to other countries.
The Aircraft
In 1976 Kuwait purchased 30 A-4KU and 6 TA-4KU aircraft and operated them until 1997. When Iraqi forces invaded Kuwait the Kuwait Air Force was unable to stop the seizure of their airfields so the A-4KUs were flown to Saudi Arabia and were integrated into the Royal Saudi Air Force operations. These Kuwait aircraft became known as the Free Kuwait Air Force and only lost one A-4KU while carrying out 1,361 sorties. Later A-4KU aircraft 809 BuNo.160188 was sold to the Brazilian Navy as AF-1 serial N-1005.
Specifications :
| | |
| --- | --- |
| Country of Origin: | United States of America |
| Manufacturer: | McDonnell Douglas |
| First Flight: | June 22, 1954 |
| Crew : | 1 |
| Dimensions: | |
| Length: | 41 ft 3 in (12.57 m) |
| Wingspan: | 27 ft 6 in (8.38 m) |
| Height: | 14 ft 10 in (4.53 m) |
| Performance: | Power Plant – 1 X Pratt & Whitney J52-P-8A producing 9,300 lb st thrust |
|   | Maximum Speed – 730 mph @ sea level (1,167 km/h) |
|   | Maximum Rate of Climb – 8,440 ft/min (43m/sec) |
|   | Ceiling – 49,000 ft (14,935 m) |
|   | Range – 2,025 miles (3,241 km) |
| Weight: | Empty – 11,800 lbs (5,352 kg) |
|   | Maximum – 24,500 lbs (11,113 kg) |