Air Power Series>1:72 die-cast display model>A-4>HA1418
Douglas A-4K Skyhawk Kahu Composite Sqn, RNZAF, Ohakea AFB, New Zealand 1990's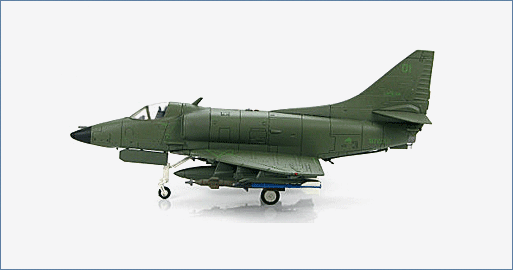 General Background
The A-4 Skyhawk is one of the most successful attack aircrafts ever built. This smallest jet aircraft ever deployed on a carrier was the product of Douglas's Chief Engineer Ed Heinnemann in the 1952. This was the time when a more lightweight aircraft was in demand to fit into those post-war vintage carriers.

The Skyhawk was extensively used during the Cold War and the Vietnam War by the Navy and the Marines. Because of its small size and powerful performance, the A-4 was also known as the "Heinemann's Hot Rod". A total of 2, 960 of Skyhawk were built and many of them were exported to other countries.
The Aircraft
During WWII the no.75 Squadron was an RAF Bomber Squadron mostly manned by New Zealanders. When the war ended the 75 Squadron title was gifted to New Zealand for all the achievements they performed during WWII. Post WWII the No. 75 Squadron reformed at RNZAF Base Ohakea. In 1970 ten A-4 Skyhawks were purchased and allocated to No. 75 Squadron making it the RNZAF primary attack squadron. Aircraft NZ-6201 was given the USN BuNo. 157904 for administrative purposes and assigned an RNZAF serial of NZ-201. NZ-201 was the first New Zealand A-4K produced. The A-4s were removed from service in 2001 when No. 75 Squadron was disbanded.
Specifications :
| | |
| --- | --- |
| Country of Origin: | United States of America |
| Manufacturer: | McDonnell Douglas |
| First Flight: | June 22, 1954 |
| Crew : | 1 |
| Dimensions: | |
| Length: | 41 ft 3 in (12.57 m) |
| Wingspan: | 27 ft 6 in (8.38 m) |
| Height: | 14 ft 10 in (4.53 m) |
| Performance: | Power Plant – 1 X Pratt & Whitney J52-P-8A producing 9,300 lb st thrust |
|   | Maximum Speed – 730 mph @ sea level (1,167 km/h) |
|   | Maximum Rate of Climb – 8,440 ft/min (43m/sec) |
|   | Ceiling – 49,000 ft (14,935 m) |
|   | Range – 2,025 miles (3,241 km) |
| Weight: | Empty – 11,800 lbs (5,352 kg) |
|   | Maximum – 24,500 lbs (11,113 kg) |