Air Power Series>1:72 die-cast display model>A-4>HA1419
Douglas A-4Q "Skyhawk" A-314, flown by Lt. Marcelo Gustavo Marquez, ARMADA, Falklands, May 1982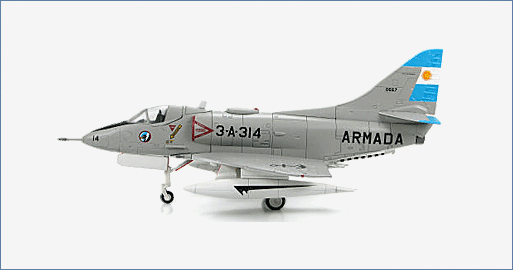 General Background
The A-4 Skyhawk is one of the most successful attack aircrafts ever built. This smallest jet aircraft ever deployed on a carrier was the product of Douglas's Chief Engineer Ed Heinnemann in the 1952. This was the time when a more lightweight aircraft was in demand to fit into those post-war vintage carriers.

The Skyhawk was extensively used during the Cold War and the Vietnam War by the Navy and the Marines. Because of its small size and powerful performance, the A-4 was also known as the "Heinemann's Hot Rod". A total of 2, 960 of Skyhawk were built and many of them were exported to other countries.
The Aircraft
On May 21, 1982, during the Falkland/Malvinas War, three Argentine A-4Q Skyhawks from 3 Escuadrilla de Caza y Ataque attacked HMS Ardent. The A-4Qs normally operated from the aircraft carrier "25 de Mayo" but this operation was launched from a ground base. Several bombs hit HMS Ardent but during their escape all 3 aircraft were shot down by Sea Harriers. Two of the pilots managed to bail out but the third aircraft A-314 flown by Lt. Marcelo Gustavo Marquez burst into flames in mid-air and he was killed.
Specifications :
A-4Q were rebuilt A-4Bs with altered slats, flaps and additional hard-points and a few other minor changes
Crew:
1
Wing Span:
27 ft 6 in
Length:
39 ft 5 in
Height:
15 ft
Weight:
20,000 lbs (loaded)
Maximum Speed:
664 mph
Service Ceiling:
47,900 ft
Range:
1,160 miles
Engine:
Originally (1) 7700 lb.s.t. Wright J65-W-16A engine later upgraded to
 
(1) Wright J65-W-20 turbojet, 8,400 lbs thrust