Air Power Series>1:72 die-cast display model>A-4>HA1422
Douglas A-4H Skyhawk No.3, 109th Valley Sqn., Yom Kippur War, 1973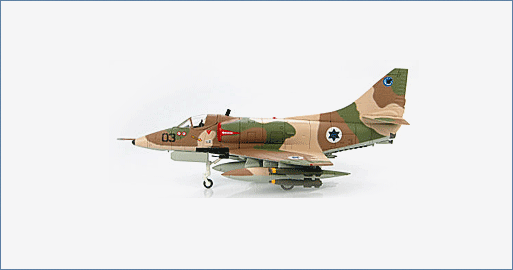 General Background
The A-4 Skyhawk is one of the most successful attack aircrafts ever built. This smallest jet aircraft ever deployed on a carrier was the product of Douglas's Chief Engineer Ed Heinnemann in the 1952. This was the time when a more lightweight aircraft was in demand to fit into those post-war vintage carriers.

The Skyhawk was extensively used during the Cold War period and the Vietnam War by the Navy and the Marines. Because of its small size and powerful performance, the A-4 was also known as the "Heinnemann's Hot Rod". A total of 2, 960 of Skyhawk were built and many of them were exported to other countries.
The Aircraft
The first 4 of 48 Skyhawks arrived in Israel by ship on December 19, 1967 and were assigned to the 109th Valley Squadron. These aircraft didn't have the electronics dorsal spine hump. On January 1, 1968 the first flight of the IDF A-4H Ayit (eagle) took place using A-4H BuNo. 155244 #03. This was followed by the first A-4H operational sortie on February 15, 1968. From March 1969 to August 1970 Israel was part of the "War of Attrition" with Egypt and occasionally other neighboring countries. On May 15, 1970 while flying #03 A-4H Col. Dotan (Mr. Skyhawk) destroyed two Syrian Mig-17's over Lebanon using Zuni rockets and 20 mm cannons. On October 18, 1973 #03 was shot down by an Egyptian SAM and the pilot, Jacob Kubik was successfully recovered. Eventually Israel would be the largest export customer for the Skyhawk with 278 of several variants.
Specifications :
| | |
| --- | --- |
| A-4H is a modified "F" for the Israeli IDF | |
| Performance | |
| Type: | Carrier based, single-seat attack bomber |
| Total number of "F" variant manufactured: | 147 |
| Dimensions |   |
| Length: | 40 ft 1 in  (12.22 m) |
| Height: | 15 ft 2 in  (4.62 m) |
| Wingspan: | 27 ft 6 in  (8.38 m) |
| Wing area: | 260 sq. ft  (24.15 m2 ) |
| Weight |   |
| Empty Weight: | 9,853 lbs.  (4,469.24 kg) |
| Gross Weight: | 16,216 lbs.  (7,355.45 kg) |
| Maximum Weight: | 24,500 lbs.  (11,113.013 kg) |
| Powerplant: | 1 X Pratt & Whitney J52-P-408 |
| Thrust-lb: | 11,200 lbs.  (5080.2345 kg) |
| Performance |   |
| Range: | 2,000 miles (3,218.688 km) |
| Max. Speed: | 646 mph  (1,039.6362 kph) |
| Ceiling: | 40,000 ft  (1,2192 m) |
| Armament: | 5 X hard points capable of carrying a maximum 10,000-lbs. |
|   | 2 X 20mm cannon in wings with 100 rounds per gun. |